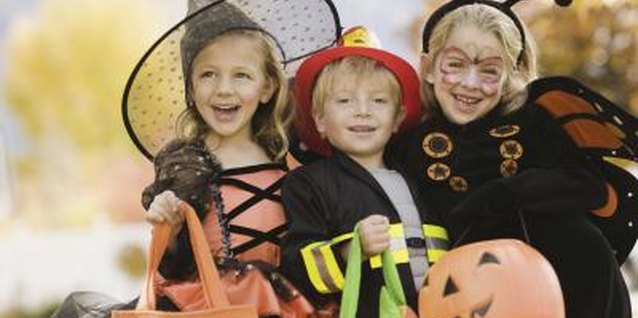 Craft a Halloween picture frame for your child that's personalized without being scary. If the skulls and hatchets of Halloween are your least favorite part of the fall season, use a harvest theme in your picture frame craft instead, and silly it up with a pair of outrageous googly eyes. An aging pumpkin sporting a goofy expression is sure to elicit a chuckle or two from the child who receives it. Adding his name along the side in shiny wooden appliques ensures he'll love his handmade Halloween gift.
1 Cover your work area with newspaper. Plug in your glue gun, load it and allow it to preheat for two to five minutes.
2 Sand your wooden picture frame lightly to remove any rough edges or pre-existing finish and buff it with a soft cloth to remove the dust.
3 Cover your frame with two to three coats of the matte green spray paint, allowing it to dry thoroughly between applications. Set aside.
4 Use a paintbrush to apply one coat of black craft paint to your wooden pumpkin applique. Follow with an application of crackling medium and a final coat of orange craft paint. Allow each coat to dry thoroughly before applying the next.
5 Place a dot of hot glue on the back of each googly eye and press it onto the pumpkin applique. Experiment with the placement of the eyes before gluing them down. You want a cute, yet silly, expression on your pumpkin. Hot glue a small raffia bow onto the pumpkin at the base of its stem.
6 Dot the bottom right corner of your picture frame with hot glue and immediately press the pumpkin applique in place. Hold in place for one minute. Make sure to position the bottom of your applique flush with the bottom of the frame so the frame is able to stand up unobstructed. The pumpkin should cover a portion of the lower right picture area.
7 Paint the letters of the child's name with one to two coats of gloss black spray paint, allowing drying time between applications. Carefully glue them into place along the top or left side of the frame.
Items you will need
Newspaper

Low-temperature, hot-glue gun

Low-temperature, hot-glue sticks

Sandpaper

Wood picture frame, 5-by-7 inches

Soft cloth

Matte dark green spray paint

Medium-sized wood pumpkin applique

Small paintbrush

Black craft paint

Crackling medium

Orange craft paint

2 medium-sized googly eyes

Small raffia bow

Small wooden letter appliques for child's name

Gloss black spray paint
Tip
Try adding glitter or small gems to the letters of the child's name for a girl and switch out the raffia bow on the pumpkin with one made from pink or purple ribbon.
Warning
Exercise care when using hot-glue guns. Even low-temperature guns can cause nasty burns. Never allow a child to use a glue gun unattended.
Photo Credits
Jupiterimages/Brand X Pictures/Getty Images