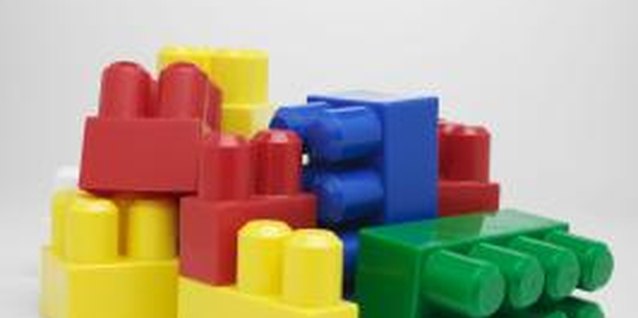 Create an eye-catching piece of modern wall art with the colorful building blocks known as Legos. The plastic blocks are manufactured in a wide assortment of sizes and colors that you can combine in an infinite variety of designs. Lego wall art provides a changeable modern art display in a child's bedroom and delivers whimsical decor in a retro-styled kitchen or living room. Wall art letters created with Legos spell out names or words with a bright punch of color.
1 Place a 15-inch square sheet of plywood on your work table. Measure and cut a piece of adhesive tile-setting mat to 30 inches square, using a tape measure and scissors. Pull the paper backing off the mat and press it on the plywood sheet, matching the edges.
2 Pull off the clear top sheet of the adhesive tile mat. Carefully press one 15-inch square grey Lego base plate on the mat, matching the edges at one corner area. Press three additional base plates on the mat, covering the plywood and positioning the plates as close together as possible.
3 Create a frame for the Lego wall art on a 2-inch perimeter area inside the edges of base plate-covered plywood with 200 red Lego building blocks by firmly pressing the Legos into the base-plate grooves.
4 Spell out a word or name with 100 green Lego building blocks inside the red framed area. Outline the word or name with 100 blue Lego building blocks.
5 Attach two picture hangers to the back of the plywood sheet near the top edge, evenly spaced apart, with a screwdriver. Pound two nails in the wall with a hammer and hang the completed Lego wall art.
Items you will need
30-inch square sheet of 1/2-inch thick plywood

Adhesive tile-setting mat

Tape measure

Scissors

Four 15-inch square grey Lego base plates

200 red Lego building blocks

100 green Lego building blocks

100 blue Lego building blocks

Two picture hangers

Screwdriver

Two nails

Hammer
Tip
Create larger or smaller pieces of Lego wall art with larger and smaller pieces of plywood and base plates.
Warning
Do not change the Lego design while the wall art is hanging. First remove the plywood from the wall and place it on a flat surface.
Resources
Photo Credits
Liquidlibrary/liquidlibrary/Getty Images