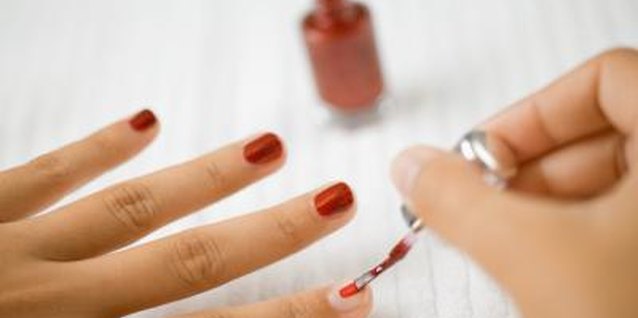 Nail polish plays an important role in some women's weekly primping and pampering rituals. If you are prone to spills, and get the sticky and smelly nail polish on your favorite white T-shirt, there is no need to panic. In spite of the beauty mishap, the stubborn nail polish stain does not have to ruin the fabric permanently. Using a few expert cleaning tips, you can remove the polish from your go-to white top easily and quickly.
1 Place two or three paper towels down on a flat surface. Turn the T-shirt inside out. Lay it flat on the table or countertop.
2 Dip the edge of a clean cotton cloth or paper towel into acetone or acetone-based nail polish remover. Press the cleaning solvent into the stain.
3 Rinse the stain with a clean cloth dipped into cold water. Dab the damp towel into the soiled area to clean. Repeat dabbing the nail polish remover and the cold water into the T-shirt until you remove the stain completely.
4 Pour a liquid pre-treating product on the stained area. Allow the pre-treating product to stay on the T-shirt for 15 to 20 minutes. Launder as usual using a heavy-duty detergent, a warm water wash and a cool rinse cycle.
5 Hang the T-shirt on a padded hanger to dry. Do not tumble in a hot dryer. If any tiny nail polish particles remain, the dryer's heat will set the stain.
Items you will need
Paper towels

Acetone or acetone-based nail polish remover

Clean cotton cloth

Liquid pre-treating product

Heavy-duty detergent

Hydrogen peroxide

Spray bottle

Padded hanger
Tip
If the nail polish residue remains after you've washed the garment, mix 1/2 cup of hydrogen peroxide with a 1/2 cup of water in a spray bottle. Spritz the solution on the stain. Hang the T-shirt outdoors to line dry in the sun. The rays of the sun act as a natural bleaching agent to lift the stain from the shirt.
Warning
If your white T-shirt has synthetic fibers such as acetate or polyester, do not use the acetone or the nail polish remover to remove the stain. Take the shirt to the dry-cleaners instead. The chemical solvent will damage the fabric permanently.
References
Taking the Wrap: A Mandy Dyer Mystery; Dolores Johnson; 2004
Photo Credits
Pixland/Pixland/Getty Images