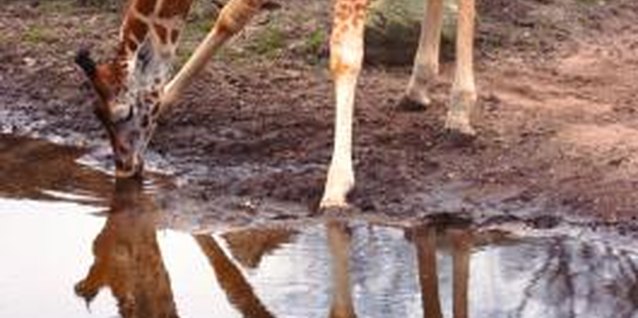 If you're seeking furniture, wall treatments or decor pieces in a giraffe print for a funky look, chances are you'll have to do it yourself, because it may be hard to come by in a store. Rather than scouring many stores to find that perfect spotted piece, or paying someone else to paint it for you, tackle the task yourself with two different shades of paint. For an even more interesting twist on the project, choose unnatural colors for the giraffe print, such as blue spots on an orange or chartreuse background.
1 Cover the work surface with newspaper. If painting a wall, spread newspaper in front of the wall to catch stray drips or spills. Protect areas that aren't being painted with painter's tape. Set the project piece on top of the paper.
2 Clean the project surface thoroughly with household cleaner and a damp rag, if you're dealing with walls, furniture or decor pieces. Skip this step if painting on canvas or on paper or cardboard items.
3 Sand the surface gently with a fine-grit sanding block if working with wood, plastic or laminate or previously painted or coated metal. Wipe the dust away with a tack cloth or damp rag. Skip this step if working on walls, cardboard or paper-based materials.
4 Pour the latex or acrylic primer into a paint tray or disposable container. Stir the primer first with a stir stick if using latex. Latex is cost-effective for large surfaces such as furniture or walls; acrylic craft paints, due to their small bottle sizes, are suitable for small projects such as decor pieces or jewelry boxes.
5 Apply primer to the project surface using a paintbrush. Allow it to dry completely.
6 Pour some of the background giraffe paint color, typically tan, into a paint tray or disposable container. If using latex, stir the paint first with a paint stir stick. Paint the entire project with the background color. Allow to dry completely.
7 Plot the spot pattern onto the project piece using chalk or a pencil. Chalk is erasable and works well for large areas, whereas a pencil may be necessary for a small piece that doesn't receive chalk well. Draw spots in random, natural shapes similar to stones on a walkway, with a little space between each spot.
8 Trace the outline of each spot using the second (darker) paint color using an artist's brush. Fill in the spots completely using a paintbrush. Allow the design to dry completely.
Items you will need
Newspaper

Painter's tape

Household cleaner

Damp rag

Fine-grit sanding block

Tack cloth

Latex or acrylic primer

Stir stick

Paint trays or disposable containers

Latex or acrylic paint in both tan and brown (or your chosen giraffe print colors)

Paintbrush

Artist's brush

Chalk or pencil
Tips
These same techniques can be used to create a giraffe print on fabric or a rug -- simply use fabric paints instead of acrylic or latex.

If painting on plastic, use a primer designed specifically for plastic, as it will adhere much better.

Study images of actual giraffes and practice drawing spots on scrap paper for a more realistic paint job.

For a more complex, detailed look, mix colors for the spots, such as brown with varying shades of yellow and orange.
Photo Credits
John Foxx/Stockbyte/Getty Images