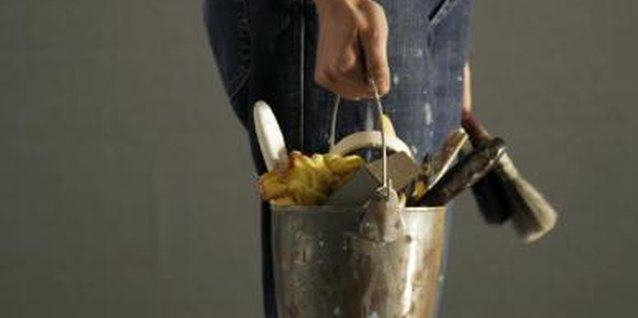 A good paint job can quickly transform a room from a dingy, dull bore to an exciting, colorful living space. Sanding woodwork or other projects to roughen the surface and round out sharp paint edges is important to achieve a smooth, lustrous finish. Sometimes, however, you are still left with different levels of paint layers that make you feel nervous about the final result. Most paint-level differences can be hidden with primer and paint. Deeper paint irregularities where the edges don't round over or "feather" out with sanding require a little more prep work.
1. Prep Work
1 Fill the recesses of the surface using wood filler on wood or light spackle compound on drywall or painted plaster. Use a wide-blade putty knife to smooth the application and remove excess compound. Allow the filler or compound to dry completely. For thick applications, you might need to let it dry overnight.
2. Prep Work
2 Repeat the application if the filler or compound cracks or shrinks. This will only be the case if you're filling large nail holes or other deeper imperfections. Let it dry.
3. Prep Work
3 Sand the surface using 100-grit sandpaper wrapped around a wood block to remove the excess filler or compound. Sand until you have the smooth surface you desire. A light sanding without the wood block might be required to get it just right. You might still see slight paint-layer irregularities, but your topcoats will minimize them. A dust mask will help avoid breathing the sanding dust.
4. Prep Work
4 Clean the project and the work area by vacuuming the dust. Use a clean, barely damp cloth to remove the last bits of dust from the project surface.
5. Priming and Painting
1 Prime the surface by loading your brush with primer, then applying it with long strokes. If you're working with wood, follow the grain. Allow it to dry.
6. Priming and Painting
2 Sand the surface gently with 320-grit sandpaper to knock down raised grain or remove bits of dust or debris that fell on the surface while it was wet.
7. Priming and Painting
3 Apply the first topcoat in the same manner you applied the primer. Topcoat paints are much thicker than primer. While you still want to load up the brush for good coverage, don't apply so much that it sags or pools on the surface. Allow it to dry.
8. Priming and Painting
4 Sand gently with 320-grit sandpaper to smooth the surface and prepare it for the next coat. Apply the second topcoat in the same manner as the first, then allow it to dry.
Items you will need
Wood filler or lightweight spackle compound

Wide-blade putty knife

Dust mask

100-grit and 320-grit sandpaper

Small wood block

Damp cloth

Paintbrush

Primer

Topcoat
Tips
Use latex primer with latex paint and oil-based primer with oil paint.

Use only the best-quality primer and paint you can afford. They are easier to work with and they smooth over imperfections better than inferior products.

Use a nylon or polyester brush with latex paint products and a natural bristle (China bristle) brush with oil.

If you are working on an exterior surface, the procedures are similar. You will, however, need to use exterior filler, primer and paint.
Warnings
If the paint on your work surface is so thick that most of it won't adequately feather out -- such as is sometimes the case on exterior woodwork -- you'll have better results if you scrape the remaining paint to a lower level or remove it entirely.

Ventilate your work space to remove paint vapors. Oil-based primer and paint vapors are particularly unpleasant.

If you live in an older house, your project surface might have lead paint. Before sanding any painted surface in a pre-1978 house, have a licensed lead and asbestos inspector perform a lead paint test. The small expense of the test is well worth the peace of mind you'll get knowing your family is healthy and safe.
Photo Credits
Gary Houlder/Lifesize/Getty Images