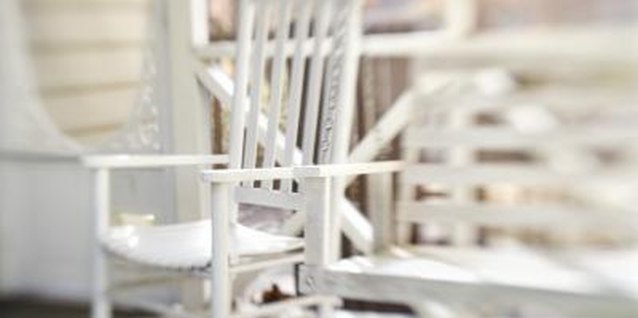 Acrylic paint is a water-based product made from a combination of polymers and pigment. These particular ingredients create a hard surface that is easy to clean, making it an ideal paint for your wooden chair. The properties of acrylic paint include not cracking or yellowing -- a characteristic of many oil-based paints. Prep work is minimal, with easy soap and water clean-up. Acrylic paint dries quickly, so multiple layers of one color or multiple colors may be painted within 15 minutes of one another. Select your colors and begin your painted wooden chair project.
1 Clean your wooden chair with soap and water. Dry thoroughly.
2 Sand the entire surface with 180-grit then 220-grit sandpaper to scuff the surface. You are not trying to remove the old paint or finish, just create small grooves in the surface. These grooves provide a surface for the acrylic paint to adhere to. Wipe the entire chair down with a tack cloth to remove sanding dust and any excess debris.
3 Turn the chair upside-down and start painting on the underside. Apply three thin coats of acrylic paint. Allow the paint to dry 15 minutes before starting the next coat.
4 Turn the chair right side up. Paint all remaining areas with three thin coats of acrylic paint, working from the top down. Allow the paint to dry 15 minutes before starting the next coat. Let the chair sit for one hour before sealing.
5 Brush or spray acrylic sealer over the entire surface of the wooden chair. Seal the bottom, legs and back of the chair first. After the sealer is dry, tip the chair upright and seal the seat, seat back and edges. The sealer helps to create a tough surface to protect the paint and make it easier to clean. Let the sealer dry for one hour. Apply one to three additional coats of sealer. Dry one hour between coats.
Items you will need
Soap

Bucket

Clean rag

Towel

180-grit sandpaper

220-grit sandpaper

Tack cloth

Acrylic paint

1-inch paintbrush

Acrylic sealer
Tips
Clean your brush immediately after application of the acrylic paint or sealer. Use soap and water to clean the brush.

Use an acrylic primer prior to painting over a wooden chair that was previously stained. Stain has a tendency to bleed through acrylic paint. The acrylic primer will help to control the bleeding.

Multiple thin coats are better than one thick coat, which will take longer to dry and may drip.
Resources
Photo Credits
Thinkstock/Comstock/Getty Images