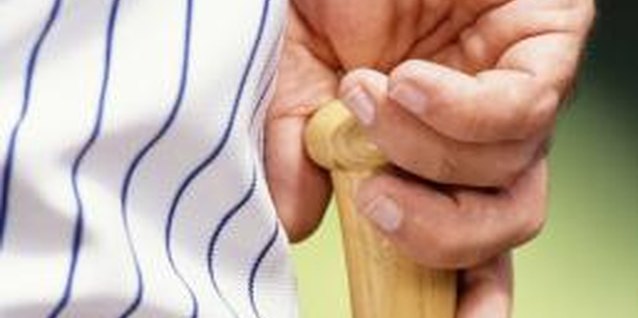 You don't have to be a baseball fan to fall in love with the designer look of bright white adorned with crisp navy pinstripes. Yankee pinstripes are a classic way to give a room dramatic flair, especially if that room is inhabited by your budding baseball star. The trick to painting this pattern is to keep the spacing even and the lines completely straight. The right tools are more important in this project than a steady hand.
1 Apply two coats of white base color to walls. Allow paint to dry completely between coats.
2 Measure the wall to find the center. Work out from the center and mark the wall every 13 inches.
3 Use a level to trace a straight vertical line down the entire length of the wall at each 13-inch mark.
4 Apply painter's tape flush to the left of each line ensuring that the edge of the tape remains straight. Gently press the edges to create firm adhesion.
5 Measure one inch from the right side of each strip of tape. Mark that measurement and create another level line. Apply tape to the new lines so that the edge of the tape is placed flush to the right of the pencil mark, creating an inch-wide pinstripe area.
6 Seal the inside edges of all the tape with navy blue paint. Use a small foam brush to paint short, horizontal strokes. Paint away from the inside edges of the tape, not toward them. Let dry completely.
7 Apply a second coat of navy paint to the pinstripes. Allow to dry completely between coats.
8 Allow at least four hours for the paint to thoroughly dry before removing the tape.
Items you will need
White paint

Navy blue paint

Paint roller

Small foam paintbrush

Painter's tape

Tape measure

Level

Pencil
Tips
Should the navy paint bleed into the white, correct it by positioning a straightedge against the pinstripe and using a small foam brush to touch up the white.

Using a level that is at least three feet long makes drawing vertical lines easier.

You may also use a plumb line to create the vertical lines.
Warning
Keep paint and tools out of the reach of children.
Photo Credits
Jupiterimages/liquidlibrary/Getty Images