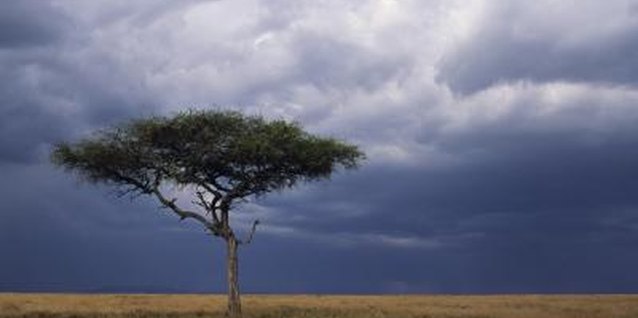 Imagine painting a graceful tree with branches spreading across your living room wall, a sheltering tree filled with birds in a nursery, or a mural of pines and birches in the family room. These designer effects are easy to accomplish even if you think you can't draw. With an overhead projector, you can beam the image onto your wall and trace or stencil the design before you paint it. If you don't want to take on the entire wall, paint and embellish a tree on canvas for a portable piece of wall art. Make an impact by spreading your tree across three or four same-size canvases; then hang them together as a group.
1. Using a Projector
1 Project your tree silhouette or image onto the wall using an overhead projector. Find overhead projectors at craft stores, borrow one from your local school or library, or rent it from an office supply store. Move the projector until the image fills the desired wall space. The farther away the projector is from the wall, the larger the image.
2. Using a Projector
2 Trace the projected image onto the wall with a light pencil or chalk.
3. Using a Projector
3 Paint the traced outline with a small liner brush and latex wall paint. Fill in the outline using larger brushes as appropriate.
4. Using a Wall Stencil
1 Cover the desired wall area with overlapping strips of tape. Draw the tree outline on the tape with a pencil. You can use a projected image or draw freehand.
5. Using a Wall Stencil
2 Cut out and remove the tape where you will paint the tree. Use a light touch and a sharp craft blade to avoid damaging the wall.
6. Using a Wall Stencil
3 Paint over the resulting stencil with paint in the same color as the wall to fill in and seal the stencil edge.
7. Using a Wall Stencil
4 Paint with the desired mural color, using two coats if needed for complete coverage. Allow to dry for 8 to 10 hours and remove the tape.
8. Painting a Canvas for Portable Wall Art
1 Purchase a stretched and primed artist's canvas, available at craft and art supply stores. Lightly trace the tree outline in pencil. Use a projector or stencil, or draw freehand to create your tree's trunk and branches.
9. Painting a Canvas for Portable Wall Art
2 Paint along the traced lines using a liner brush and acrylic craft paint. Fill in the outline using larger brushes, 1 to 2 inches wide as needed. If desired, stencil, stamp or sponge leaves in your choice of realistic or fanciful colors.
10. Painting a Canvas for Portable Wall Art
3 Cut leaf shapes from scrapbook paper instead of painting leaves. Use decoupage medium to collage the shapes around the branches on the canvas. For a creative touch, use other collage items such as buttons, sequins or stickers.