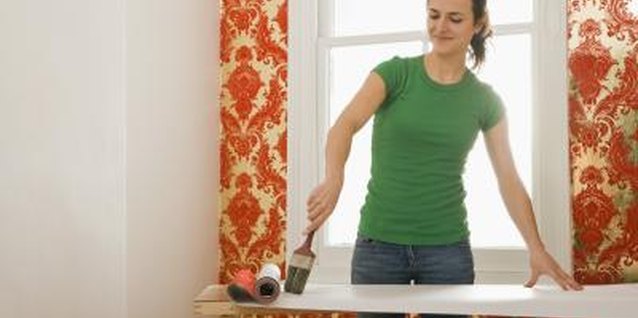 If you're looking for a way to add color and patterns to your walls without the commitment of full-coverage wallpaper, wall cutouts are the answer. For a custom look, cut them out yourself from wallpaper remnants.
1 Wipe your walls down with a damp sponge to clean off any dust and dirt. If your walls are particularly grimy, add a drop of mild liquid soap to the sponge and wipe the wall again with clean water to remove the soap.
2 Hold the wallpaper cutouts up the wall and mark where you want them to go. Some precut cutouts have small sticker dots that allow you to temporarily stick them to the wall. If your cutouts don't have stickers because they're hand-crafted, make a light outline with a pencil to indicate the placement you want.
3 Mix a small bowl of wallpaper paste according to its package directions.
4 Lay a garbage bag or plastic drop cloth on a flat surface, such as a table. Lay the wallpaper cutouts face-down on the plastic.
5 Dip a sponge brush into the wallpaper paste. Paint a light coat onto the back of the wallpaper cutout. Don't forget the edges, but be careful to not get paste anywhere you'll be setting more cutouts down. As you paint on the paste, smooth out any curls.
6 Press the cutout against the wall, smoothing the front with your hands. Alternatively, use a wallpaper smoother. Rub the entire front of the cutout in small circles with a dry cloth or paper towel, working from the middle outward and smoothing out any bubbles as you go.
7 Allow the cutouts to dry completely before touching them again.
Items you will need
Sponge

Bowl

Garbage bag or plastic drop cloth

Sponge brush

Wallpaper smoother (optional)
Tip
Prepasted precut wallpaper decals just need to be dipped in water to activate the adhesive, instead of having paste applied to them, before hanging. Because the adhesive is water-activated, they come off the walls without damage.
Warnings
Test your paint for colorfastness before washing with soap. Wipe a small corner in an inconspicuous area with the soap you plan to use and wait for it to dry to make sure there's no color change.

Allow freshly painted walls to cure for at least two weeks before applying wallpaper cutouts.
Photo Credits
Jupiterimages/Pixland/Getty Images