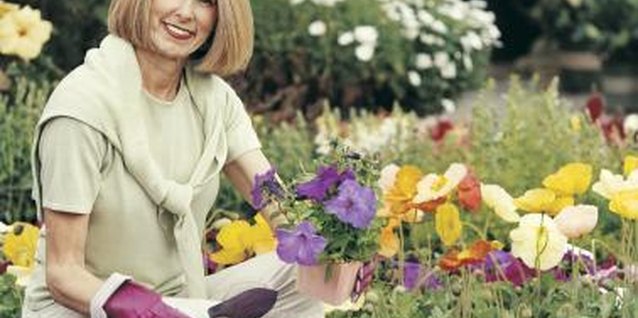 Perennials add seasonal color and fragrance to your garden for years at a time; in other words, you plant them once and then watch them come back to life each spring. Certain perennial species reseed themselves or self-sow, spreading naturally into bare spots in the landscape and creating an informal, random look reminiscent of an English garden. Sometimes, though, reseeding perennials spread too much. Fortunately, you can control self-sowing by deadheading perennials and plucking unwanted plantlets, a process known as "editing" the garden.
1. Yellow and White
For midsummer color, plant heliopsis (Heliopsis helianthoides). This self-sowing perennial grows to 5 feet tall and thrives in sunny sites with well-draining soil. Plant heliopsis in U.S. Department of Agriculture plant hardiness zones 3 to 9. Fleabane (Erigeron spp.) blooms with clusters of small, white flowers with yellow centers in summer. Reaching heights of 2 feet, this perennial tolerates dry soil and is hardy in USDA zones 2 to 8.
2. Blue and Purple
Blue wild indigo (Baptisia australis) is native to the eastern U.S. This 4-foot-tall perennial blooms with spikes of blue flowers in spring and is hardy in USDA zones 3 to 9. Plant blue wild indigo in well-draining sites in sun or partial shade. The bellflower (Campanula spp.) blooms with blue and purple flowers in summer. Reaching heights to 5 feet, this European native is hardy in USDA zones 3 to 8. It grows well in sunny, well-draining sites.
3. Pink and Rose
The 3-foot-tall purple coneflower (Echinacea purpurea) blooms with rosy-pink, daisy-like flowers. Hardy in USDA zones 3 to 8, this upright perennial grows well in sunny, hot and dry sites and attracts bees and butterflies with its blossoms. The spike gayfeather (Liatris spicata) produces spires of pink and maue flowers from summer through autumn. Reaching heights of 18 to 36 inches, the spike gayfeather is a North American native that thrives in well-drained soil and sun to light shade. Plant this perennial in USDA zones 3 to 9.
4. Red and Orange
Draw butterflies to your garden with butterfly weed (Asclepias tuberosa). This self-sowing perennial grows to 3 feet tall and blooms in spring and summer with red and orange flowers that attract pollinators. A native North American flower, butterfly weed is hardy in USDA zones 4 to 9 and prefers sunny, dry sites. The native columbine (Aquilegia canadensis) produces drooping, red-yellow flowers in spring. Growing to 2 feet tall, the columbine prefers moist soil and shaded exposures. It's hardy in USDA zones 3 to 8.