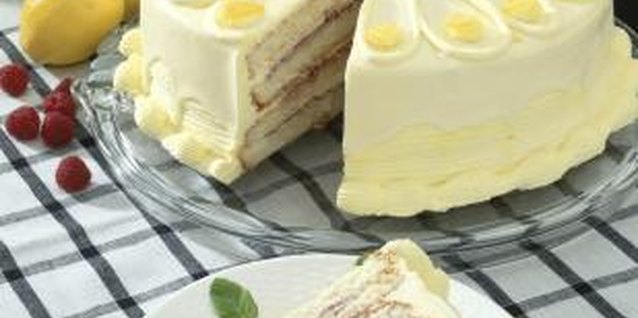 When it comes to desserts, nothing is quite as versatile as a homemade cake. You can ice the cake with a simple frosting, fill it with jam or embellish it with elaborate decorations. Or, you can top the cake with whipping cream, fresh fruit or ice cream. Don't rush while preparing the cake tin for baking, because proper preparation ensures effortless removal of the cake from the tin. Create a nonstick coating with oil and flour. Optionally, add parchment paper for additional nonstick protection.
1. Oil and Flour
1 Grease the cake tin to prevent the cake from sticking. You can grease the tin several ways; for example, smooth oil, shortening, margarine or melted butter on the tin with a piece of waxed paper, a butter wrapper, a pastry brush or your clean fingers. You also can spray the tin with nonstick cooking spray unless your recipe says otherwise.
2. Oil and Flour
2 Sprinkle about 1/4 cup of all-purpose white flour into the center of the cake tin. Jiggle the tin back and forth until the tin is evenly coated with a thin dusting of flour. Then, tap the tin lightly and discard the remaining loose flour.
3. Oil and Flour
3 Fill the cake tin with batter and bake the cake according to the directions on the recipe.
4. Parchment Paper
1 Cut a piece of parchment paper to fit the bottom of the cake tin. Oil or butter the sides and bottom of the tin lightly before placing the paper in the tin.
5. Parchment Paper
2 Place the parchment paper in the bottom of the greased tin, then smooth out bumps and wrinkles in the paper with your fingers. Coat the parchment paper with an additional layer of oil.
6. Parchment Paper
3 Place about 1/4 cup of all-purpose flour into the tin, on top of the oiled parchment paper. Shake the tin until the sides and bottom are evenly coated and discard the extra flour. Fill the cake tin with batter.
Items you will need
Shortening

Waxed paper

Pastry brush

All-purpose flour

Parchment paper

Scissors
Tips
For a chocolate cake, you can dust the greased cake tin with cocoa powder instead of flour. The cocoa powder adds flavor and prevents the white flour from showing up on the dark cake.

Cool cakes on a wire rack for about 10 minutes before removing the cake from the tin.
Warning
Don't use soft-spread or low-fat margarine because such products lack the fat needed to keep the cake from sticking to the pan.
Photo Credits
Ablestock.com/AbleStock.com/Getty Images