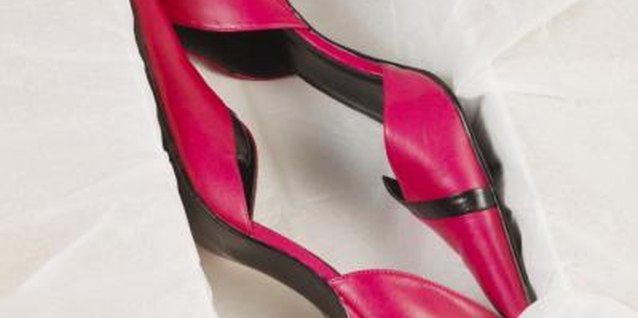 Shoe soles take a beating, even if you only wear them on special occasions. Whether you made a significant shoe investment or opted for a less expensive pair, keep the soles in good shape for longer by taking protective measures. Regular care will ensure that your dress shoes are ready to shine when you next need them.
1 Take new dress shoes to a professional cobbler and request rubber sole coverings. This added layer of protection will keep water from seeping into the shoes and provide better traction.
2 Replace missing heel caps immediately to keep the wear even. Stilettos are notorious for blowing heel caps after wearing.
3 Spritz clean shoes, including the soles, with a water-repellent product. This spray protects the shoe from damage in the rain and snow. Rubber soles do not require water repellent.
4 Restore shoe traction by rubbing the sole lightly with sandpaper. Soles that have worn down to a slick, shiny surface can create a falling hazard.
5 Wipe your dress shoes with a damp cloth after every wear. Polish the shoes with a dry cloth. Store them in a lidded shoebox or a shoe bag.
Items you will need
Heel caps

Water-repellent spray

Sandpaper

Cloths

Shoebox

Shoe bag
Tips
Avoid walking through standing water or mud when possible.

A well-made shoe assembled with quality products will stand up to wear and exposure to the elements better than a cheaply made pair.
Warning
If the soles feel spongy or weak when you press on them, they need replacing.
Photo Credits
Stockbyte/Stockbyte/Getty Images