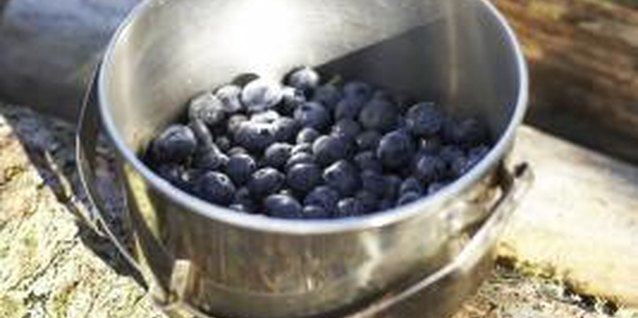 If you've ever bought blueberries in the grocery store, then you know that having your own patch of wild blueberries is a financial boon indeed. Wild blueberries, which are the Maine state berry, are not only delicious, but also worth a pretty penny. Whether you're planning to harvest a crop for your family to enjoy or you plan to set up your own mini farmer's market to sell them, the way to harvest wild, low-lying blueberries by hand is to use a "rake." This small piece of equipment can help you get the berries off the bush without harming them.
1 Grasp one handle of the rake in each hand, with the tines of the rake facing away from you. A blueberry rake looks like a wide, shallow scoop with tines along the edge.
2 Bend at the knees -- instead of bending at the waist -- and tip the tines of the rake toward the top layer of the blueberry bush, just beneath a layer of berries. Don't go too low; that will cause you to get leaves and debris in your rake, along with the blueberries.
3 Press forward a few inches and then tip the tines of the rake upward gently and slowly, essentially "grabbing" some berries with the rake tines.
4 Pull the rake away from the bush completely.
5 Tip the tines back down toward the bush again, repeating the process of "grabbing" berries.
6 Remove any grass, leaves or debris that have accumulated on the rake by pulling them out gently with one hand.
7 Dump your berries into a bucket -- which you should have nearby -- when you have a few handfuls of berries on your rake.
Tips
Don't "grab" too many berries before dumping them in your bucket or you'll risk crushing the blueberries -- unless of course, you plan you use them for blueberry jam.

The blueberry rake is used for low-lying blueberries, not the bush varieties.
Photo Credits
Jupiterimages/Photos.com/Getty Images