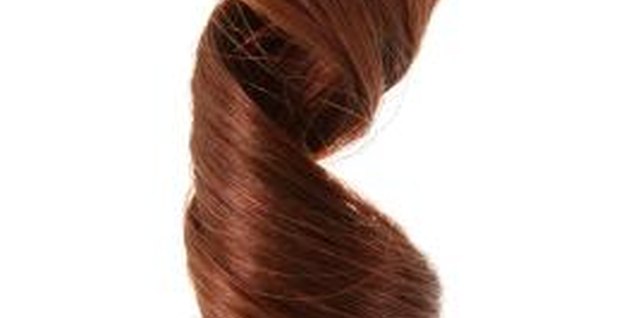 Although no substitute can match the natural look of a human hair wig, synthetic alternatives do offer some bonuses. In addition to a lower, more manageable price range, synthetic wigs come in longer lengths and a wider variety of colors, including the bold, bright and unnatural hues required for impressive costumes. Synthetic wigs also hold their styles longer than human hair wigs, which can lose curls as quickly as your own hair might. When curls eventually loosen on a synthetic wig, a low heat steam setting can restore them to their original beauty.
Synthetic Pin Curls
Dampen the wig with cool water and place it onto a wig block or mannequin head for styling.
Separate a 1-inch section of hair with a tail comb. Fold a piece of end paper over the tip of the section.
Press a wooden dowel or other cylindrical object that matches the desired curl size against the end paper. Wind the hair section around the dowel.
Slide the curl off the dowel. Slip a T-pin into each side of the curl to attach it to the wig.
Continue curling 1-inch sections of hair all over the wig in the desired curl pattern.
Turn the steamer to a low setting. Hold the nozzle close to each curl, and let the steam soak the curls for 30 seconds each.
Let the wig dry completely. This may take several hours. Remove every T-pin.
Smooth out the curls with your fingers and the tail comb. Spritz the final style with hairspray.
Synthetic Roller Curls
Dampen the wig fibers with cool water. Set the wig onto a wig block or mannequin head.
Separate a 1- to 2-inch-wide section of hair with a tail comb. Fold an end paper over the tip of the section.
Wind the hair section onto a hair roller. Secure the roller to the wig with two T-pins.
Create rolled curls all over the wig. Steam each curl for 30 seconds with the hand steamer, then let the wig dry completely for several hours.
Unroll each roller and remove the T-pins. Comb out the curls or style them as desired. Add hairspray for extra hold.
Items you will need
Wig block or mannequin head

Tail comb

End papers

Wooden dowel or cylindrical object

T-pins

Hand steamer or wig steamer

Hairspray
Tips
Slide end papers behind each hair section and fold them over the front of each section. Spritz them lightly with water and slide them down to the section ends for an effective hold.

Ringlets and coils can be achieved in synthetic hair with the same method.
Warning
If the wig care instructions do not specifically state that hot styling tools are appropriate, never use them. Several varieties of synthetic wigs cannot handle high heat.
References
Historical Wig Styling; Allison Lowery
"Wig Making and Styling; A Complete Guide for Theatre & Film"; Martha Ruskai and Allison Lowery; 2010
Photo Credits
Thomas Northcut/Digital Vision/Getty Images