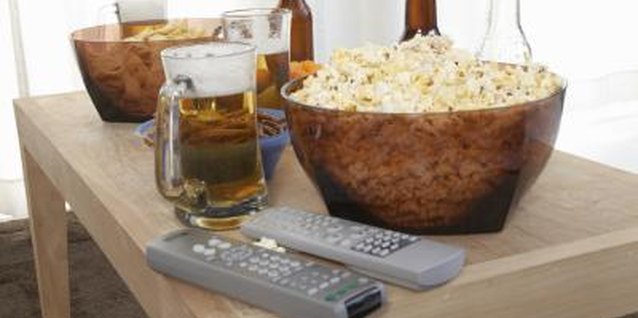 A true antique coffee table in a style that you like may be hard to come by or beyond your budget. Rather than searching store after store for the perfect table at the perfect price, give an existing coffee table a makeover to make it look far older than it really is. Standard supplies from a home improvement store are all you'll need to give that table an antiqued or specialty finish suited to the room's decor.
1 Wipe down the coffee table entirely, including its legs, using a damp sponge. Allow the table to dry completely.
2 Place an assortment of heavy nuts and bolts in an old pillowcase or sock. These heavy items will serve as a tool to distress the table, making it look older than it is.
3 Grasp the opening of the pillowcase or sock and swing the load of nuts and bolts at the table, whacking it in various places to cause dents and wear. Aim for the corners and random areas along the top or sides to make the table look as if it has been in heavy use for many years. Hit the table with a hammer a few times in random places as well, using the side, claw and head of the hammer as denting tools. If the table has wooden legs, hit those a few times as well.
4 Cover your work surface with newspaper. Set the table atop the paper.
5 Sand the entire table with a fine-grit sanding block to scuff up any remaining shiny coating, which will allow the paint and primer to adhere better. Wipe down the table with a tack cloth to remove dust.
6 Cover any parts of the table you don't wish to paint, if any, with painter's tape.
7 Open and stir the primer using a stir stick. Pour some of the liquid into a paint tray.
8 Prime the entire surface using a paintbrush. Allow the table to dry completely.
9 Open and stir the main paint color, pouring some of it into a paint tray. Paint the coffee table using a paint brush. Apply a second coat if the primer is still visible beneath the paint. Allow paint to dry completely.
10 Mix a bit of dark latex or acrylic paint with some water in a disposable container until the paint is slightly thinned. Stir it with a stir stick to blend the liquids.
11 Brush the watery, dark paint over the entire coffee table, rubbing off excess with a rag, which also will push the dark paint into cracks and dents. Continue this process until the table looks aged to your liking. Allow paint to dry completely.
Items you will need
Damp sponge

Assorted nuts, bolts or heavy hardware

Old pillowcase or sock

Hammer

Newspaper

Fine-grit sanding block

Tack cloth

Painter's tape

Latex primer

Paint tray

Stir stick

Paint brush

Latex paint in shade such as antique white

Second shade of latex or acrylic paint, such as dark brown or honey

Disposable container

Water

Clean rag
Tips
Follow this technique on a dark table using a light, watery topcoat for a whitewash effect. This will give the piece a shabby chic look if the main table color is a pastel shade, for instance, or tan.

For a twist on the paint layering method, rub wax over the first paint color once it dries, then paint a undiluted second color over that. Sand away some of the paint from each layer, especially around raised edges and corners, so the table looks as if it has been painted many times. Use this technique with as many paint layers as you'd like.

A honey-yellow paint watered down as the top coat will replicate the look of varnish that has yellowed over time.

Apply a polyurethane sealer over the project to protect your work; leaving it as is, however, will help the paint wear even more, adding to the aged appearance.
Photo Credits
Wendy Hope/Stockbyte/Getty Images