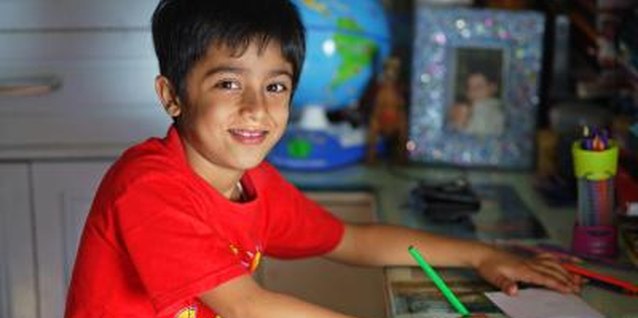 Sometimes old, beat up furniture still has good "bones" but could use a face lift to make it more up to date. A metallic paint makeover may be all it takes to turn that ugly old desk into a stylish homework desk for a tween boy's room, giving him something he's happy to use rather than feeling like he's getting an old hand-me-down. Take the extra time to sand the furniture, no matter what it's made of, before priming because it helps the primer and paint stick better -- this way you won't have to repaint the piece again anytime soon.
1 Wipe the furniture piece down thoroughly with household cleaner and a damp rag. Allow to dry completely.
2 Cover the work surface with newspaper and set the project furniture atop it. If the furniture piece is too large to move easily, such as a hutch or armoire, place the newspaper around it to protect the floor. Lift one edge of a large furniture piece at a time while a friend slides the paper underneath the edge for added floor protection.
3 Sand the entire surface of the project piece with a fine-grit sanding block. Sanding scuffs the existing finish enough to provide a better grip for primer and paint, and also helps smooth out minor flaws. Wipe the dust away with a tack cloth.
4 Protect areas that are not to be painted by covering them with painter's tape.
5 Open and stir the primer using a stir stick. Pour some of the primer into a paint tray. Prime the entire furniture piece using a paint brush. Allow primer to dry completely.
6 Repeat Step 5, this time using the metallic silver paint. Once the paint dries, apply a second coat if the primer is still visible beneath. Allow the second coat, if any, to dry completely.
7 Protect the project by painting it with a polyurethane clear coat sealer.
Items you will need
Household cleaner

Damp rag

Fine-grit sanding block

Tack cloth

Painter's tape

Latex primer

Stir stick

Paint tray

Paint brush

Metallic silver latex paint

Polyurethane
Tips
If painting plastic or resin furniture, a plastic primer is required, otherwise the paint or primer may not adhere properly. Standard latex paint or spray paint can be used over plastic primer.

Silver spray paint can be used in place of latex paint. If using spray paint, apply only in a well-ventilated area while wearing a mask. Protect the surrounding area from over-spray by placing extra newspaper around the piece.

If using a standard shiny silver paint, give it a brushed metal appearance by wiping it down with a gray or dark antiquing glaze after the paint dries.

Some metallic silver paints are available in specialty finishes, such as hammered metal, which gives the finish a more complex appearance.

Paint the furniture hardware like drawer pulls a different color, such as black or pewter, for a complete furniture makeover.
Photo Credits
Visage/Stockbyte/Getty Images