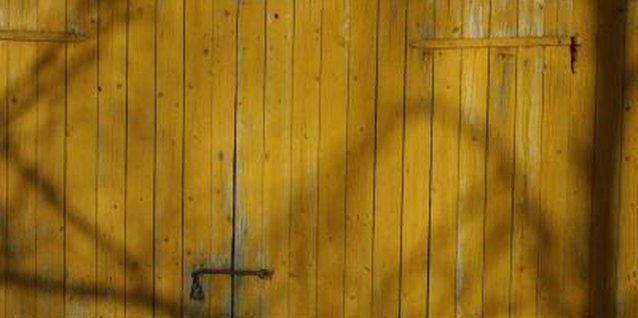 The John Deere JA65 mower is a self-propelled model and has one rear discharge for grass clippings. This model can operate with the mulching plug, rear discharge chute or grass clippings bag, which are all included in the purchase. The rear mulching plug plate must be removed to use the discharge chute or grass bag.
1 Place your mower on a flat surface, turn off the engine and allow it to cool slightly.
2 Grasp the center-bottom of the rear discharge door and lift it upward. Grasp the center of the mulcher plug plate and push it in while turning it clockwise to release it from the locking tabs. Pull the plug straight out and off the mower.
3 Lower the discharge door slowly. Clean grass clippings and debris from the discharge door with a towel.
4 Lift the discharge door with one hand and grab the lawn clippings bag with the other hand by the metal handle. Lift the bag onto the front of the lawn mower handles and insert it into the discharge door. Lower the door slowly to hold the bag in place and use the bag for gathering clippings.
5 Lift the discharge door, place the discharge chute in the doorway with the exterior pointing left and lower the door to use the rear discharge chute.
Items you will need
Towel

Discharge chute

Grass bag
Tips
The rear discharge door has a spring in the top that holds each accessory in place when you rotate the door closed.

Bag your longer grass clippings on the first cutting of the season. Longer clippings do not mulch well and if discharged on the lawn they lay in clumps that need redistribution to fall into the grass canopy for mulching purposes.
Warnings
Do not operate without the grass bag, discharge chute or mulching plug in place in the rear discharge area.

Do not spray insect repellent near the mower. It can damage both plastic and painted surfaces.
Photo Credits
Photos.com/Photos.com/Getty Images