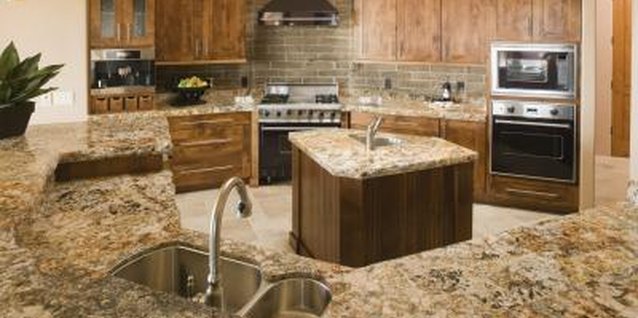 Silestone is a type of engineered stone that is made up almost entirely of quartz. Since Silestone counters are installed in large, heavy pieces, or slabs, having them professionally removed can add significantly to the bottom line of a kitchen remodeling project. If you're looking to replace the Silestone countertop in your kitchen, you may be able to cut costs by enlisting the help of a friend to remove the old Silestone yourselves.
1 Disconnect the plumbing connections from the sink. Turn the water shut-off valve, located underneath the sink, to the off position. Switch the faucet on to drain the remainder of the water in the line. Twist the hoses that are attached to the faucet beneath the sink until they are disconnected.
2 Use a razor blade or utility knife to carefully cut the epoxy or silicone seal around the faucet, sink and counter. Score any silicone seams in the countertops and underneath the counters as well. Lift the faucet out of the Silestone countertop to remove it.
3 Place a pry bar underneath the front of the countertop and tap it with a rubber mallet so that it slides between the countertop and cabinet. Using constant pressure, push the pry bar down until the Silestone pops from the cabinet. Work your way around the entire front of the counter.
4 Pry the Silestone slab up and place a thin piece of wood measuring the length of the countertop as close to the back of the counter as possible. Carefully lower the countertop back down onto the cabinet.
5 Push the front of the countertop down so that the silicone seal between the countertop and the wall or backsplash is broken and the Silestone pops up. Use a pry bar to pry the countertop away from the wall, working from underneath the cabinet if it won't budge.
6 With the help of an assistant, lift the countertop from away from the cabinets.
Items you will need
Safety glasses

Razor blade or utility knife

Rubber mallet

Pry bar

Thin piece of wood
Tips
Double check to make sure that everything attached to the counter has been removed before prying the Silestone off.

Additional time scoring the epoxy and silicone may be required for stubborn spots where the countertop is difficult to pry off.
Warning
Wear safety glasses while removing the countertop.
Photo Credits
Jupiterimages/Stockbyte/Getty Images