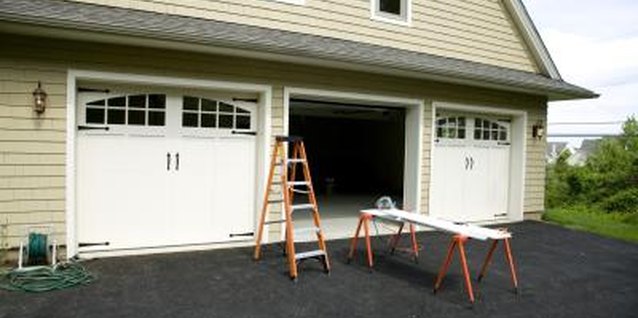 Vinyl shutters come in a variety of styles and colors to help dress up the exterior of your home. Over time, you may want to remove or replace them, as they can warp or discolor due to sunlight. Or you may simply want a different style or color on your house. Removing the old shutters is relatively easy with just a few tools.
1 Remove the screws securing the shutter to the brick with a screwdriver. If the shutter is held in place by shutter pins (plastic pins with a wide, round head and serrated body), slide the blade of a 5-in-1 paint tool between the head of the shutter pin and the shutter, then tap the back of the tool with a hammer to slice off the head of the shutter pin.
2 Repeat the previous procedure with all of the screws or shutter pins, then pull the shutter off the brick. If you must use a ladder to reach the shutters, exercise caution and follow all safety procedures indicated on the ladder's warning label.
3 Remove the plastic stubs of the shutter pins from the brick with a pair of needle-nose pliers.
4 Fill the holes in the brick or mortar with color-matched mortar repair caulking and a caulking gun. If you plan on reinstalling new shutters in the same location, you can skip this step and use the existing holes for the new screws or shutter pins.
Items you will need
Ladder

Screwdriver

5-in-1 paint tool

Hammer

Needle-nose pliers

Mortar repair caulk

Caulking gun
Tip
Vinyl shutter screws are typically phillips-head style, but some types may be hex or flat-head style as well.
Photo Credits
David Sacks/Lifesize/Getty Images