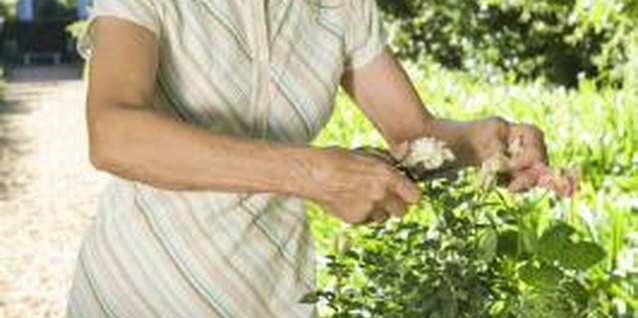 Concrete planter urns are made in molds to supply a long-lasting sturdy container for gardening. Concrete insulates plant roots from both heat in the summer and cold in the winter. After several years, concrete planters lose some of their elasticity and dry out. An unexpected topple can break off pieces that need repairing. Concrete repairs to broken items are much like putting puzzle pieces together and result in completion of the project in short time.
1 Put on work gloves to protect hands from sharp concrete edges.
2 Place a tarp next to the broken urn. Remove any plants or trees from the urn and place them on the tarp, taking care not to break any roots. Water the plant roots with a garden hose, fold the tarp over them and put them in a shady area.
3 Separate the broken pieces of the concrete urn. Lay them on the ground in close proximity as to the area they belong on the urn. Clean each broken piece around the edges with a wire brush to remove dirt and debris.
4 Put on safety glasses. Remove small sharp edges by placing a chisel on the area and striking it with a hammer.
5 Combine dry mortar mix with water in a bowl according to the package instructions. Different manufacturers recommend mixing instructions based on the type and weight of mortar mix.
6 Dip the tip of a trowel into the mortar mix. Spread a thick layer on all edges of the remaining piece of urn starting at the bottom. Coat each edge of each broken piece and assemble them together on the urn. Press each junction tightly onto the previous one. This is much like attaching puzzle pieces to a 3D puzzle. Pieces with the sharp edges removed will have more mortar in those areas to fill in the gap between them.
7 Wet a towel with water and wipe any excess mortar from all outside and inside joints after the reconstruction.
8 Measure the top, middle and bottom circumferences of the urn with a cloth measuring tape. Add 4 inches to each measurement and cut galvanized wire to these sizes with wire cutters. Wrap each piece of wire around the urn in the correlated position. Twist the two loose ends together with pliers to hold the urn together. Allow the repairs to dry for 24 hours and then remove the support wires. Fill the urn with soil and replant your plants, shrubs or vegetables.
Items you will need
Work gloves

Tarp

Garden hose

Wire brush

Safety glasses

Hammer (optional)

Chisel (optional)

Mortar mix

Water

Bucket

Trowel

Towel

Cloth measuring tape

Galvanized wire

Wire cutters

Pliers

Outdoor spray paint (optional)
Tips
Mortar mix may dry in a different color than your urn. Cover the repairs with outdoor spray paint in a darker color than the urn and mortar mix to hide the repairs. Spray paint the exterior surfaces only to protect plants on the inside.

Place a large concrete planter on a trolley with wheels to make it easier to move the urn to different locations. A large urn is heavy after filling it with soil.
Warnings
Keep children and pets away from your work area when using a chisel and hammer to prevent flying debris accidents.

Do not make repairs to concrete in freezing temperatures. The mortar does not cure correctly and may not hold all pieces together as it should.
Photo Credits
Jupiterimages/Pixland/Getty Images