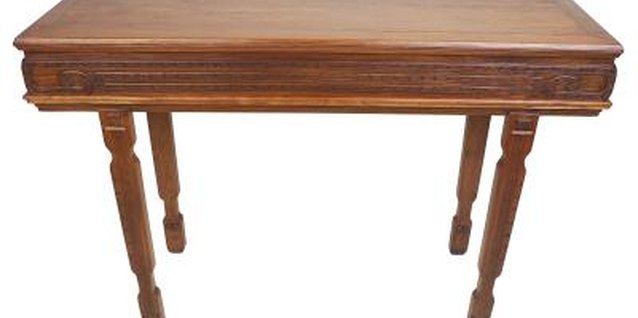 If your wood furniture has taken abuse through the years, before you abandon it, consider taking the time to refinish it. If the finish isn't too damaged you may be able to make a few repairs, wipe on a finishing oil and be done. If the finish is damaged, however, you will need to strip off the old finish and refinish the entire piece. In the end, even though the work is tedious, you will have a piece of furniture to be proud of.
1 Apply gel stripper with a soft cloth to remove the existing finish. Use a stripper that washes away with water for easier clean-up. Let the stripper sit on the wood for the recommended amount of time.
2 Scrape the old finish from the wood surface with a putty knife. Take care that you don't gouge the wood during this process.
3 Rub the remaining finish from the wood using steel wool. Clean off remaining stripper with a wet cloth. Allow the piece to dry overnight.
4 Sand the wood with the grain of the wood using 120-grit sandpaper to remove any remaining finish. Sand again using 220-grit sandpaper to achieve a smooth surface. Wipe the wood with a tack cloth to remove all dust particles.
5 Repair holes and scratches. Fill small holes and cracks with a wood fill stick by rubbing the stick over the cracks until the holes and cracks are filled to your satisfaction. For larger holes, break off small pieces of the fill stick. Soften the wax between your fingers and press it into the hole.
6 Fill in minor scratches with a touch-up marker in a color that is a shade lighter than the finish of the furniture. Apply additional coats until the desired shade is achieved. Wipe away excess with a clean dry cloth.
7 Apply a gel stain, working on small, manageable sections at a time. Apply the stain in a circular motion using a soft cloth. Buff the surface with a clean cloth, wiping in the direction of the grain. Allow the finish to dry overnight before using your furniture.