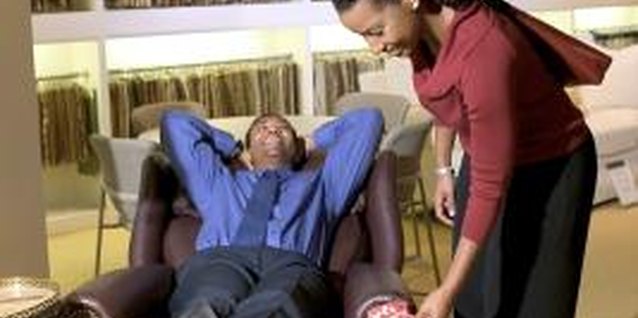 Vinyl is the material of choice for recliners: It's soft and flexible for a comfortable seat, and it's inexpensive. However, vinyl is vulnerable to damages, and it can rip or puncture easily. When you get a tear in your vinyl recliner, you have two choices: Reupholster the chair -- which can be an expensive and time-consuming process -- or patch it yourself using a vinyl repair kit.
1 Clean the area around the tear with a warm cloth and soapy water or with an alcohol wipe. The area must be clean of dirt and grime for the repair kit to adhere to the vinyl.
2 Cut a strip of the backing material to fit the size of the tear. It should be slightly longer and wider than the tear so that it can adhere to the vinyl.
3 Insert the backing material into the tear. If the tear is small and would be made larger by inserting the backing strip, you can skip this step and go directly to the next step.
4 Choose a color of vinyl repair paste from the kit that matches the vinyl of your chair. If none match, mix the colors included until you get a match.
5 Apply a thin layer of the vinyl repair paste into the tear, spreading it all the way to the edges. Use the small spatula tool included with the kit to spread it smoothly and to ensure it covers the whole area.
6 Choose a piece of texturing material from the vinyl repair kit that matches the texture of the vinyl on your recliner. Lay the texturing material over the adhesive, and use masking tape or painter's tape to affix it to the recliner.
7 Apply a small iron to the texturing material for 3 to 4 minutes, then move the iron in circles to smooth the paste over the area.
8 Remove the texturing material once the area has cooled completely.
9 Check for any gaps or cracks in the repaired area, and repeat the above steps as necessary until the area is completely filled in and smooth.
Items you will need
Vinyl repair kit

Alcohol wipe or wet cloth

Small iron

Masking tape or painter's tape
Tips
A small iron that is sold for pressing hemlines is the perfect size for heating the repaired area without damaging the surrounding vinyl.

Test the kit color on a small patch of vinyl on the underside of your chair to get the right match.
Warning
Be careful when using alcohol to clean the area around the tear. Alcohol can dry out the vinyl, so it should only be used where necessary.
Photo Credits
Thinkstock Images/Comstock/Getty Images