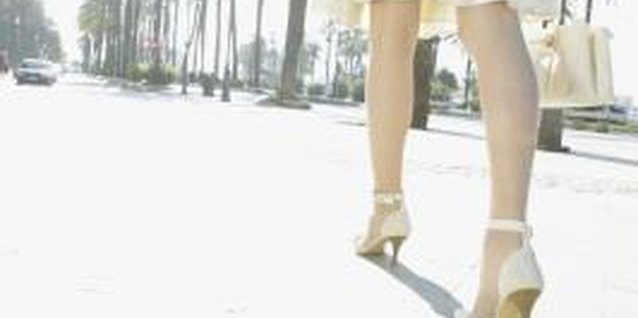 Whether a brief encounter with a sidewalk crack left you with a missing heel cap, or you want to avoid that embarrassing shoe clicking or wearing dangerously wobbly shoes, rescue your favorite pair of heels by replacing the heel caps. This minor repair only requires a few household tools and a bit of elbow grease. And, you may prolong the life of your heels by replacing the heel caps as needed.
1 Cover the hammer head and the pliers' edges with masking tape. The tape creates a barrier that will prevent damage to your shoes during the repair.
2 Turn the shoe upside down and examine the heel. The replacement cap should match the original heel cap in size, shape and color. If the cap is missing, look at the intact shoe for guidance.
3 Remove the shoe heel cap by twisting if off using the pliers. For the best results, use a left-right twisting motion rather than pulling the cap straight off.
4 Insert the replacement cap into the heel hole. Tap the cap in gently using a hammer. If you prefer, bang the heel cap in by smacking the shoe on concrete. Your shoes are ready for wear.
Items you will need
Hammer

Pliers

Masking tape

Shoe heel caps
Tips
If you cannot find a matching replacement cap, replace both caps.

You can adjust the height of your shoes by removing the original caps with taller or shorter caps.
Warning
Consult a professional shoe repair shop if you cannot easily remove the caps.
Photo Credits
Digital Vision./Photodisc/Getty Images