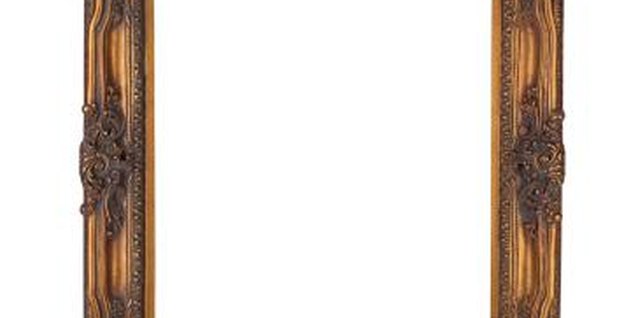 Gold picture frames add elegance and style to every room in the house. You can restore damaged, old gold frames to their former glory with a gold leafing technique that takes some time and care but is not overly complicated. Shop thrift shops and estate sales for gold picture frames that will look new after a gold leaf treatment. A grouping of family pictures with restored gold picture frames adds personal charm to a wall over a table or sofa.
1 Remove the glass and backing from old gold picture frames. Sand the frames with fine-grit sandpaper. Remove all sandpaper residue with a tack cloth.
2 Paint the frames with gilding primer paint, using a small paintbrush. Let the primer dry for 1 hour. Paint the frames with liquid adhesive, using a small paintbrush.
3 Put on thin cotton gloves and carefully lift one sheet of gold foil with your fingers. Rip off an irregular piece of foil that is no larger than 3 square inches.
4 Drape the foil piece over a portion of the frames and smooth it over any curves with your fingertips. Trim off excess foil with scissors. Add additional foil pieces to the frames until they are completely covered.
5 Smooth out the foil texture and brush off any loose pieces of foil with a soft-bristled gilders mop brush. Spray the gold foil picture frames with acrylic topcoat. Let the topcoat dry for 1 hour.
Items you will need
Sandpaper, fine grit

Tack cloth

Gilding primer

Small paintbrushes

Liquid adhesive

Thin cotton gloves

Gold-leaf sheets

Scissors

Soft gilders mop brush

Clear acrylic topcoat spray
Tip
Cover plain wooden frames with gold leaf using the same technique. You can also use gold leaf with a protective film, which is removed during the gilding process, to restore the frames.
Warning
Paint on the gilding primer, adhesive and sealer in a well-ventilated room.
Photo Credits
Stockbyte/Stockbyte/Getty Images