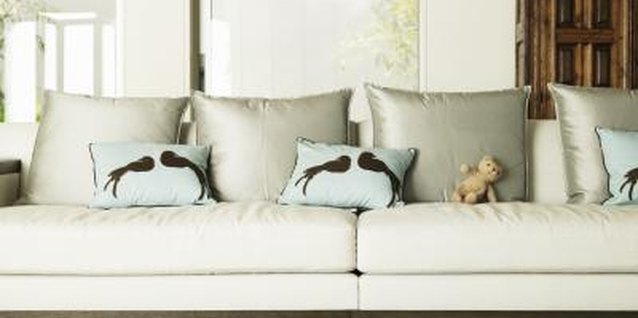 When updating a living room, bedroom or formal sitting area, new pillows are the easiest way to bring new life into a dated room. Easier yet is how simple it is to make new pillow covers for those you already have. If you can sew four straight lines, you can reupholster a pillow. Visit your favorite home decor stores and get an idea of what patterns, colors and designs are current. Then head to a fabric store to pick out fabric and get to sewing. In 30 minutes sewing time, you'll have new pillow covers.
1 Take the old cover off of your pillow form. Measure the size of the old pillow cover and add ½ inch to each side for seam allowance.
2 Fold your fabric in half and cut out two identical squares. Place those two squares together with the right sides (patterned side) facing each other and pin together.
3 Sew one side using a ½-inch seam allowance with a straight stitch on your sewing machine. Open the seam and press flat with an iron.
4 Pin your zipper directly on the seam you just sewed and pressed open, face down on the seam. Sew around the zipper, using a zipper foot on your machine, stopping 1/2 inch from the end.
5 Turn the fabric over to the patterned side and carefully unpick the seam with a seam ripper. Unpick the seam until you're 1/2 inch away from the end of the zipper. This will reveal your zipper.
6 Fold the fabric together with the right sides facing each other again. Unzip the zipper halfway and sew up the remaining three sides.
7 Turn the finished case right side out and insert your pillow form.
Items you will need
Pillow form

1/2 yard fabric (per pillow)

Sewing machine

Zipper foot

Pins

Iron

Scissors

Zipper (two inches shorter than the side of your pillow)

Seam ripper
Tips
Choose a bold fabric. The best part about pillow covers is that they can easily be changed. Pick a pattern you love in the moment. You can always switch it up later.

Prewash and iron your fabric before use. This will prevent shrinkage later if you ever need to wash your pillow cover.

Use a zipper that coordinates with your fabric. While the entire zipper won't show, some of it will and it looks more professional if it matches.

If your pillow form feels flat, wrap quilt batting around it. This will add softness and plumpness to the finished pillow.
Warning
Always pin the fabric together, even if you think it is unnecessary. It's better to do it right the first time than unpick seams later.
Photo Credits
Ryan McVay/Lifesize/Getty Images