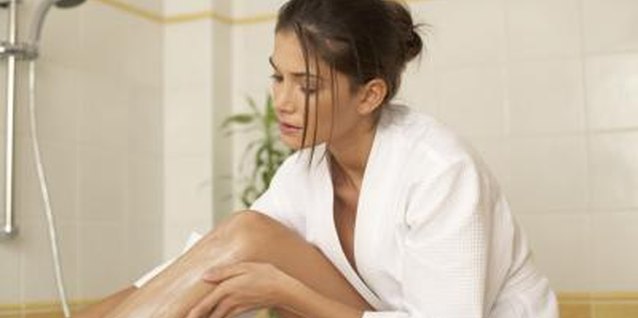 If you enjoyed sunning your legs in your 20's and 30's, those summers in the sun may come back to haunt you in your 40's -- in the form of age spots. According to the U.S. National Library of Medicine, liver or age spots often appear on aging skin as a result of even the smallest amounts of exposure to the sun's rays. However, women who discover age spots on their legs can stop and reverse these tell-tale signs of aging with regular lotion applications, if the products contain the necessary ingredients.
1 Dab a hydroquinone-based bleaching lotion directly on the spots. Apply the product regularly according to the directions until the spots fade. You should not use hydroquinone lotions all over your skin, but rather on discolorations like age spots. Some people experience stinging or tingling of the skin with lightening lotions. If the sensation becomes hot or uncomfortable, rinse the product away immediately and discontinue use.
2 Apply a skin lotion to your legs that contains AHA, or alpha-hydroxy acid. Products with AHA soften and loose crusts that can develop over some age spots. AHA products also lighten discoloration, but this active ingredient can increase sensitivity to the sun.
3 Visit a dermatologist, and ask him to examine the spot. Request a prescription to treat age spots on your legs. Some prescription-only lotions contain higher percentages of effective lighteners, like hydroquinone or vitamin A lotions.
4 Rub on a sunblock lotion with an SPF 30 or above before venturing outdoors. Preventing brown spots before they become too noticeable will help you limit and diminish the appearance of uneven skin tone.
Items you will need
Bleaching lotion

AHA-based lotion

Prescription-strength lotions

Sunblock
Tips
Age spots pose no medical threat to your skin.

Increase the effectiveness of your spot lightener by exfoliating the discoloration first.
Photo Credits
Jupiterimages/Creatas/Getty Images