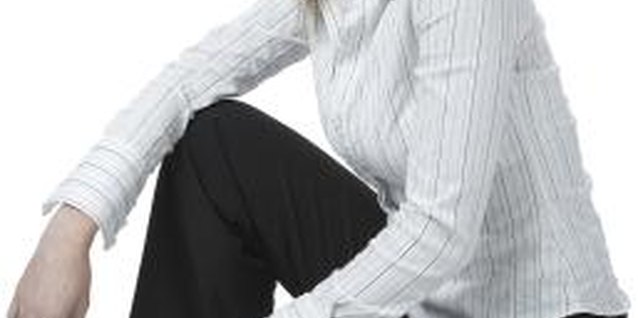 If you detest pressing your shirt each time you wear it, a no-iron blouse is a simple fashion fix. Treated with a resin containing formaldehyde, these wrinkle-resistant shirts are durable and easy to wear. When you discover unsightly stains around the collar, you don't have to throw your favorite shirt into the trash. Using a few stain-removal tips, you can rid your blouse of the embarrassing and stubborn sweat, oil or dirt stains in a few simple steps.
1 Lift stubborn stains with common household ingredients. If you have fresh perspiration stains, pre-treat with a tablespoon of ammonia. If the ring around the collar is a few days old, pre-treat the stain with a tablespoon of vinegar.
2 Lay the shirt flat with the collar facing up. Let the product rest on the shirt for five to 10 minutes. Scrub with an old toothbrush or nail brush. Rinse the collar in a stream of lukewarm water to remove the stain and any ammonia or vinegar residue.
3 Pretreat the stain with a heavy-duty liquid detergent. Pour the detergent on the collar. Let the product soak into the stain for 10 to 15 minutes. Scrub the stain with a small-bristled nail brush or old toothbrush to help release the stain.
4 Launder the blouse using warm water and a permanent press setting. Turn the shirt inside out. To prevent damage due to agitation on the washing cycle, place the shirt in a mesh bag.
5 Tumble the blouse in the dryer, on a warm setting, to release wrinkles. Hang the blouse immediately on a padded hanger to keep the blouse wrinkle-free.
Items you will need
Ammonia

Vinegar

Old toothbrush

Nail brush

Heavy-duty liquid detergent

Padded hanger
Tip
If the collar stain remains, take the blouse to the dry cleaner for a professional cleaning.
Warning
To prevent setting the stain on the collar permanently, do not wash the collar in hot water or tumble it in a hot dryer.
Photo Credits
Photos.com/PhotoObjects.net/Getty Images