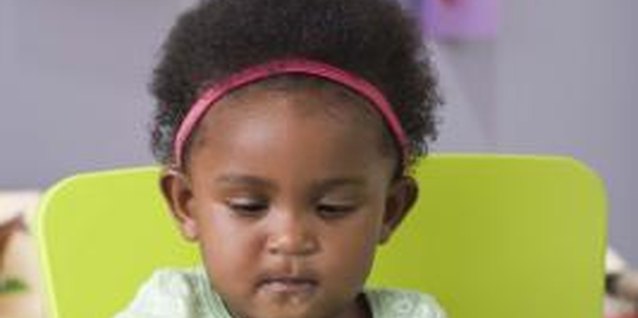 Setting a sophisticated, elegant table is just what busy moms of toddlers have lots of time for, right? Maybe not, but Mother's Day is a special occasion worthy of the splendor. This celebratory second Sunday in May need not stress you out. After all, it's a holiday for you, Mom! Set a pretty table without a lot of fuss, and everyone will marvel at your creative skills. Just keep them guessing when they wonder how you had time to do it all.
1 Enlist the help of your toddler in decorating place mats to prepare for the special day. Yeah, toddlers' art isn't going to be the first thing that pops into anybody's head when it comes to high art, but improvise ways to include your child. Provide your toddler with a few simple pastel colored crayons, craft paper to use for place mats, and instructions on designing flowers on each sheet of paper. Help your toddler write what she calls each guest on the place mats for a special touch.
2 Choose a table cloth that's the guest of honor's favorite color, whether for your own mom, grandmother or mother-in-law. If your celebration is for multiple moms, go with a pastel solid that's pretty and festive. Keeping it basic won't take away from the pizzazz of the rest of your decor. Take the time to set it just so on your table.
3 Arrange the place mats on the table to indicate your seating plan once you have decided where each guest will sit.
4 Place a large floral arrangement in the middle of the table. Choose flowers to complement the ones your child has drawn. Opt for the favorite flowers of each mother attending the celebration. Make sure to include your own favorites, too. In addition to the centerpiece, place a flower on the left side of each plate. This small touch can really make a mom feel special and appreciated.
5 Write a short message on a cloth or paper banner. Keep it to the point and succinct, so it can be read with just a glance. A simple "Happy Mother's Day" is fine. If it's a gathering for only moms with toddlers, "Happy Mommy's Day" may be a cuter touch. Customize it to the group that's coming to lunch or dinner.
6 Place the banner over or around your floral centerpiece.
7 Set out your finest plates. While Mother's Day isn't an occasion that you want to go in debt to celebrate, breaking out the nicest dishes you already own is appropriate. Make sure you have enough matching plates for every setting. Place one on top of each placemat.
8 Pick pastel or white cloth napkins. Using cloth napkins adds a prettier, more sophisticated touch to a Mother's Day table than just paper ones, and they are ultimately better for the environment, so it's a win-win situation. Place a soup spoon, salad fork, dinner fork and butter knife in the middle of the napkin. Fold the top and bottom of the napkin over the silverware, then roll it up.
9 Place a napkin with the silverware on top of each plate. If you opt to do a different napkin fold that doesn't envelope your silverware, remember that forks go on the left, while spoons and knives should be placed on the right.
10 Put a wine glass to the right of each place setting. Even if you know someone doesn't drink alcohol, place a wine glass at her setting, as she can use it for water, juice or other beverage.
11 Customize the table with special touches unique to your guests. If your mom loves jewelry, leave a wrapped pair of earrings with a little piece of costume gems on top as decor. Putting this by her place setting will bring big smiles and anticipation. Big gifts should be left off the table, but small ones can help enhance the ambiance for your celebration meal.
Items you will need
Pastel crayons

Craft paper

Table cloth

Flowers

Plates

Silverware (forks, spoons, knives)

Banner

Cloth napkins
Tip
If you are excited about showcasing the food you're preparing, print out a small menu of what the meal will include. Sit one beside each place setting. Guests can keep this as a small souvenir of the meal you lovingly prepared to celebrate the special holiday.
Warnings
Don't forget that Mother's Day is a difficult holiday for many people whose mothers have passed away. If someone who has lost a mother is coming to your celebration, be sensitive to conversations that may be painful.

Never let a desire to impress your guests outweigh your need for functionality. Your need to childproof the party and enjoy your own Mother's Day are more important than perfection, so don't sweat the small stuff.
Photo Credits
Jupiterimages/Comstock/Getty Images