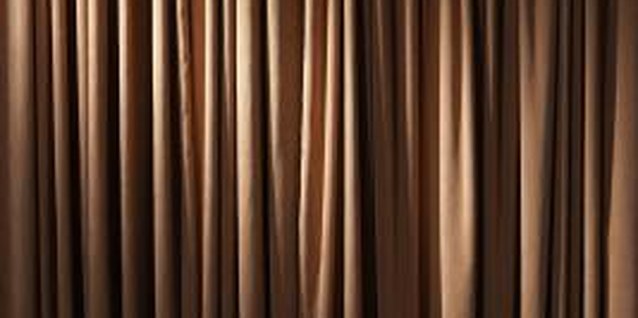 A curtain casing is a long narrow channel that holds a curtain rod at the top edge of your curtain panel. Sewing the curtain casing by hand or with a sewing machine is not complicated and requires no special sewing skills. By adding a casing, and possibly a hem to provide the proper length to fit the window, you can transform a sheet, tablecloth or bedspread into a curtain panel that will drape evenly from your rod.
1 Measure the width of the window with a tape measure. A single curtain panel that opens on the side is usually 1 and 1/2 times the width of the window. Measure the thickness of your curtain rod to determine the height of the curtain casing.
2 Fold the top edge of fabric curtain panel 1/2 inch to the wrong side of the fabric. Pin the fabric in place. Press the fold in place with an iron. Remove the pins.
3 Fold the top edge of fabric curtain panel at least 2 inches to the wrong side to create the curtain casing, depending on the thickness of the curtain rod. Pin and press the fold in place with an iron.
4 Sew the casing along the bottom edge of the folded section with a straight stitch, using a sewing machine or a needle and thread. Remove the pins.
Items you will need
Tape measure

Fabric

Curtain rod

Straight pins

Iron

Sewing machine or needle and thread
Tip
Add a 1-inch ruffle to the top of a curtain casing by making the channel 1 inch wider and sewing another line of straight stitching 1 inch from the top edge of the channel.
Warning
Do not make the curtain casing too small for the curtain rod, which must slide through the casing easily without sticking.
Photo Credits
Thomas Northcut/Photodisc/Getty Images