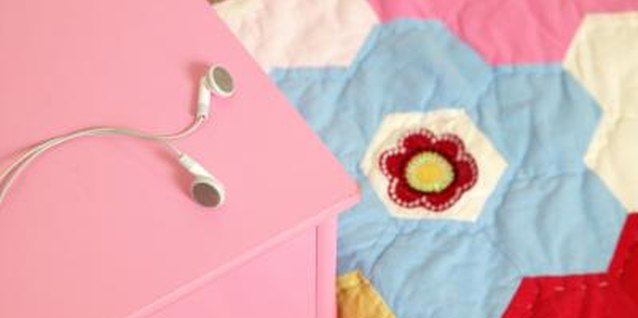 Patchwork cushions or pillows can add color and softness to your home, from the front porch to the living room or bedroom. Depending upon the materials you choose, patchwork designs can look modern, whimsical, sophisticated or rustic. Small cushions can be used as decorations or drawer sachets, while large ones may work as floor pillows in your home.
1 Choose nine 5-inch fabric squares from the charm pack -- a packaged set of precut quilting fabric -- or cut nine 5-inch squares from scrap fabric. Arrange the squares as desired in three rows of three squares each, alternating light and dark fabrics for a traditional arrangement.
2 Sew each horizontal row of squares together, with right sides together. Stitch the first square to the second and the second to the third by hand or machine, as you prefer. Use a 1/4-inch seam allowance. Press all seam allowances toward the darker fabric.
3 Stitch the three horizontal panels right sides together to form a single nine-patch patchwork block.
4 Cut the backing fabric into a 14 1/2-inch square. Place the backing and patchwork block right sides together and stitch around, leaving a large opening in one side.
5 Insert the pillow form into the cushion. Tuck the 1/4-inch seam allowance of the opening in on both the patchwork front and backing. Whipstitch the opening closed with coordinating thread and a hand-sewing needle.
Items you will need
Charm pack or fabric scraps

Scissors

Hand sewing needles

Thread

Sewing machine, optional

Iron

Ironing board

Backing fabric

14-inch pillow form
Tips
Adjust the size of your patchwork cushion as desired, making it as small or large as you choose.

Replace the pillow form with polyester fiberfill if desired or if you can't find the size pillow form you prefer.
Warning
Your seam allowances do need to be quite exact. You may want to practice by sewing together small fabric squares. Measure before and after. The final measurement should be exactly 1/2 inch smaller.
Photo Credits
Ableimages/Photodisc/Getty Images