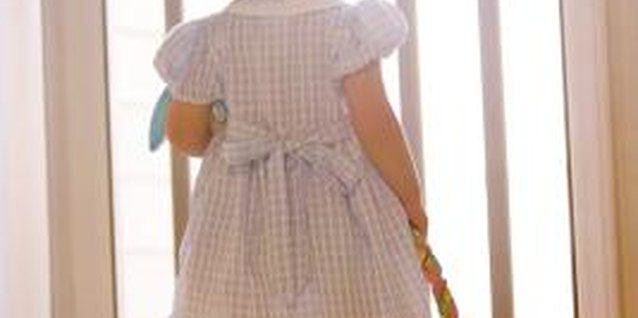 If you've got a pile of boring clothes at the back of your kiddo's closet, they may be begging for a makeover. Sure, they're functional but they need more flair. Dress up a simple cotton sundress with an adorable ruffled ribbon trim around the hem. It'll look better than brand new by the time you're done with it! If ruffles aren't your thing, add a few ribbon bows to the sleeves of a plain, old T-shirt and voila! – a fancy dress shirt.
1. Ribbon Ruffles
1 Cut a length of ribbon (at least 1-inch wide works best) to at least 1.5 times the circumference of the clothing item. Ribbon 1.5 times the circumference creates loose ruffles; 2 times the circumference creates tight, wavy ruffles.
2. Ribbon Ruffles
2 Sew a straight stitch down one long side of the ribbon. (A straight stitch is simply one stitch directly in front of another, all the way down the ribbon.) When you're done, stop, but don't tie off the thread just yet.
3. Ribbon Ruffles
3 Yank on the thread until it's about a 1/2-inch longer than the circumference you need. Now you've got some nice ruffles and you can go ahead and tie off the thread.
4. Ribbon Ruffles
4 Slide the gathered edge of your ribbon just beneath the clothing's edge. Use straight pins (also called sewing pins) to attach the ribbon and keep it from wiggling out of place. The ends of the ribbon should overlap just a little bit because of that extra 1/2-inch.
5. Ribbon Ruffles
5 Sew a straight stitch all the way around the gathered edge of the ribbon. That's it! You've added a ribbon ruffle trim.
6. Ribbon Bows
1 Pin the ribbon onto the clothing. If you're adding more than one, go ahead and pin them all in place at the same time so you know they're exactly where you want them. For example, pin a row of little ribbon bows all the way around the neckline.
7. Ribbon Bows
2 Sew your first stitch through the center of the bow from inside the clothing. Sew through most of the layers of the ribbon, but stop just before you reach the top layer. Now your thread is nicely hidden, but the bow is firmly attached.
8. Ribbon Bows
3 Sew some more stitches (at least five to 10) through the same area of the bow. Each time, stop just before that top layer to keep your stitching hidden.
Items you will need
Ribbon

Sewing machine

Thread

Straight pins

Ribbon bows
Tip
If you're sewing the ribbon around a waistline or anywhere else you want some stretch, use an elastic thread instead of regular thread.
Photo Credits
Thinkstock/Comstock/Getty Images