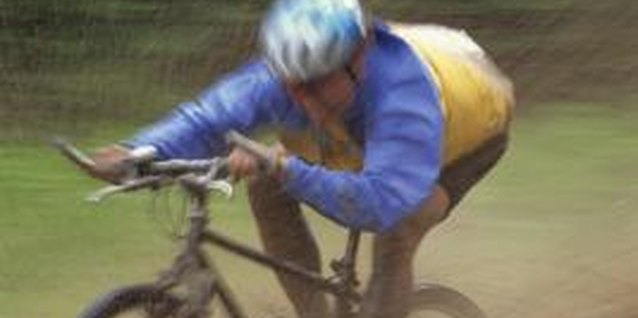 Road cyclists couldn't stay satisfied with plain pavement. Cyclocross was born as a crossover between traditional racing and mountain biking, sating their desire for a little dirt. Using specially designed bikes that resemble road bikes in their geometry but with more aggressive tires, a cyclocross rider traverses a wide variety of surfaces during a race. Cyclocross uses technical riding and portaging, in which the rider carries the bike on his shoulder, making the weight of the bike critical. This encourages a lot of riders to size their frames down to save weight. A proper fit is key to providing the most power possible to the drivetrain, so size your bike carefully for the best possible performance.
1 Start by measuring your inseam. Wear the shoes you'll be using while riding. For cyclocross riders, this is usually a traditional trail running shoe rather than a clipless bike shoe, since you'll be jumping off the bike to portage frequently. Measure from the base of your heel up the inside of your leg all the way to where it meets your pubic bone between your legs. This measure is your inseam, or pubic bone height.
2 Find the ideal frame height for your inseam. This measure of the bike is known as the standover height. The distance between the seat tube and the floor should be one inch shorter than your inseam, so that you can stand over the top tube without touching it. Many bicycle shops use a chart to show the height of the frame relative to your height when choosing a frame size.
3 Find your correct saddle height. The saddle should be about 10 cm closer to the pedal than your inseam. if your inseam is 80 mm, your saddle height would be 70 mm. Check your saddle height by mounting the bike and rotating the pedal to the lowest part of its rotation. If your leg is severely bent, your seat is not high enough. If your heel cannot reach the pedal, your seat is too high. Your leg should be perfectly straight or, preferably, just slightly bent.
4 Choose a stem for your handlebars. For individuals with longer arms, a longer stem is appropriate. Your stem should place the handlebars as close as possible to the same height as the saddle, so that your body position is horizontal. This allows greater translation of power to the drivetrain and less strain on your lower back.
Tip
If you're between two different frame sizes, choose the smaller frame for competitive cyclocross. You can make up the measurement difference in your stem and seat post. A smaller frame will have a shorter top tube, which will be more rigid for less energy lost during your pedal stroke. Additionally, the bike will be lighter and therefore easier to carry.
Warning
Don't size your bike incorrectly. This can lead to a poor fit, which will generate pain and soreness in your back, legs, arms and groin. A properly sized bike is the safest and healthiest configuration for riding.
Photo Credits
Comstock/Comstock/Getty Images