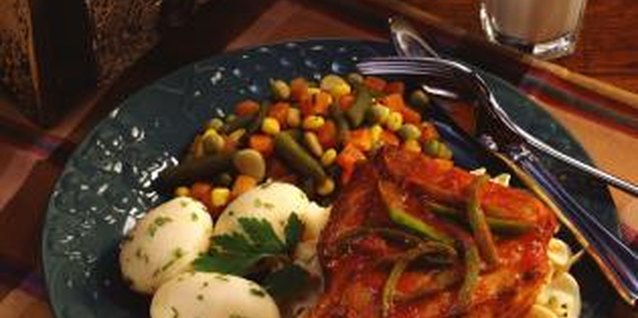 Tender, juicy pork chops served with seasonal vegetables is a comforting dish. It is also easy to prepare when using a slow-cooker. A slow-cooker limits the time you spend in the kitchen, freeing you to focus on other things. This method of cooking also helps to prevent the chop from overcooking and drying out.
1 Trim all visible fat from the edges of the pork chops. As fat is not rendered out when prepared in a slow-cooker, untrimmed pork chops can result in a somewhat oily dish. Season the chops with salt, pepper, herbs and spices, and set aside. Follow your recipe to determine which herbs and spices to add; garlic, onion and sage pair nicely with pork. If using fresh herbs, add them toward the end of the cooking time.
2 Arrange the pork and chopped vegetables in the slow-cooker. Add root vegetables to the slow-cooker first, as they take the longest to cook. They will be closest to the heating element and will be tender when the chops are done. Place the chops over the vegetables. If the chops do not fit in one layer, alternate chops with vegetables -- again, starting with any root vegetables as the first layer.
3 Add your liquid of choice, such as orange juice, apple juice or stock. Cover with a lid, and cook until the pork chops and vegetables are near tender. This should take five to six hours on the low setting.
4 Add frozen or quick-cooking vegetables, such as peas and canned tomatoes, five to 10 minutes before the end of the cooking time. If you are using fresh herbs, add them at this time. Cover and continue to cook on the high setting until done.
Items you will need
Bone-in pork chops, 3/4 to 1 inch thick

Salt and pepper to taste

Herbs and spices

Vegetables, chopped into 1-inch pieces

Orange or apple juice, optional

Vegetable stock, optional

Canned diced or stewed tomatoes, optional
Tips
Thicker pork chops work best in a slow-cooker, as they will stand up to the longer cooking time without drying out.

Searing pork chops before placing them in a slow-cooker adds color to the meat and a depth of flavor to the overall dish.

Slow-cooked pork chops and vegetables are a wonderful meal on their own, but you can serve them with rice or applesauce for a heartier meal.
Photo Credits
Jupiterimages/Comstock/Getty Images