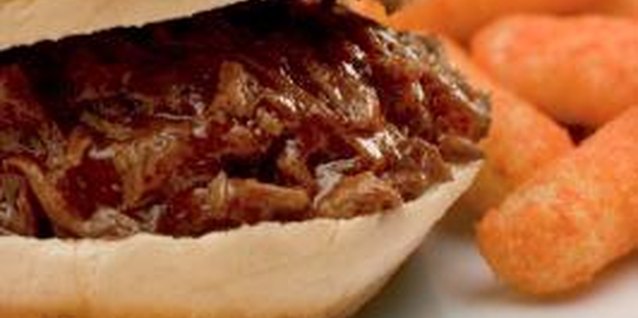 A pork roast simmered slowly in the slow cooker makes a juicy, flavorful lifesaver for days when families are busy but time is in short supply. Put the roast in your slow cooker in the morning, add two simple ingredients and the meat is fall-off-the-fork tender and ready to eat by the time you get home from work. Pork tenderloin is a tender, juicy cut of meat, but when simmered slowly in cola, even less expensive cuts such as pork butt or pork shoulder are mouthwateringly delicious. Add a fresh green salad to add a finishing touch to this special dinner.
1 Place the pork in the center of the slow cooker. Pour a can of cola evenly over the pork. For a favor variation, try cherry coke or root beer. Place the lid on the slow cooker.
2 Turn the slow cooker on low and cook the pork until falls apart when you pull the meat with a fork -- about six hours.
3 Remove the pork and set it on a plate. Pour off and discard the remaining cola, then return the pork to the slow cooker for additional preparation.
4 Shred the pork with a fork, then add your favorite barbecue sauce or a batch of homemade barbecue sauce. Stir to blend the sauce evenly with the pork.
5 Serve the pork on toasted, lightly buttered hamburger buns, kaiser rolls or hoagie rolls.
Items you will need
Cola

Slow cooker

Barbecue sauce

Butter

Rolls
Tip
You can make your own barbecue sauce by combining ingredients such as molasses, brown sugar, Worcestershire sauce, ketchup and vinegar, along with a little minced onion and garlic. Flavor the sauce with salt and pepper and additional seasonings like garlic powder, chili powder or cayenne pepper. Simmer the sauce for 12 to 15 minutes, then serve.
Photo Credits
Jupiterimages/liquidlibrary/Getty Images