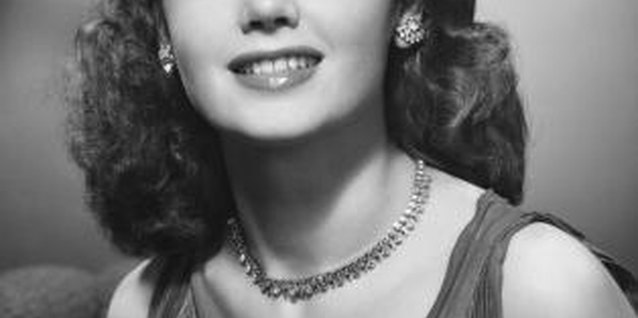 Soft vintage curls are suitable for special occasions or everyday. Whether you're wearing a retro rockabilly dress or a wedding gown, a large-barrel curling iron allows you to style your hair into perfectly suitable waves. Wrapping your hair around the barrel and pinning the warm hair in place (instead of placing the hair under the clip) gives your locks the same look as finger waves. Also, the curling-iron method doesn't require you to start with wet hair and sleep in curlers or sit under a dryer.
1. Straight Hair
1 Turn your head upside down and spritz your dry hair with a curl-setting lotion and a heat-protectant spray. Flip your head back and spray the top layer of your hair. Brush your hair with a large round brush.
2. Straight Hair
2 Twist a 2-inch section of your hair gently from roots to tips. Twist only two or three times to keep the hair loose.
3. Straight Hair
3 Wrap the hair around the curling iron in a spiral from roots to tips. Hold the ends away from the barrel. Leave the hair wrapped around the iron for 10 to 20 seconds.
4. Straight Hair
4 Release the curl and pin each wave against your head horizontally with a large bobby pin. Continue curling and pinning each section, working all the way around your head. Allow all the sections to cool, then unpin them.
5. Straight Hair
5 Comb your hair from roots to ends with a fine-toothed comb to soften your waves. Finish the look with a light mist of hairspray.