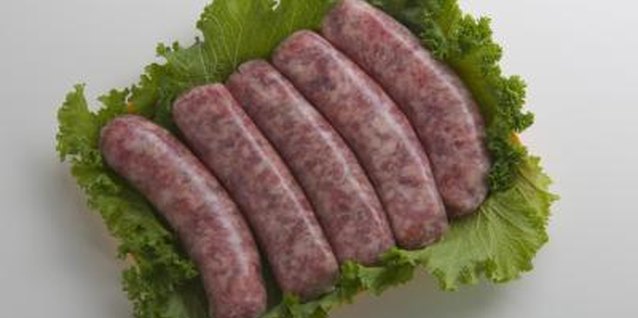 Bratwurst is almost synonymous with German cuisine. Nothing is more homey than cutting into a thick sausage accompanied by small heaps of sauerkraut and fried onions. In each region of Germany, bratwursts are cooked differently, ranging from fried to braised to broiled. However, steam-cooking the sausage is an appealing way of preparing them for the entire family, maintaining their flavor without adding additional unhealthy fats.
1 Set the frying pan on the stove. Place the bratwurst in one even layer on the bottom of the pan.
2 Pour the beer or liquid into the pan so the sausages are covered halfway up their sides.
3 Turn the burner to medium-high heat. Cover the pan and cook for 15 to 20 minutes or until they are cooked. While cooking, keep an eye on the level of liquid -- if the pan is almost dry at any point during the cooking process, add more liquid. By the end of the cooking period, there should be little to no liquid left.
Items you will need
Deep-bottomed frying pan

Fresh or frozen uncooked bratwurst, thawed

German beer (optional) or water
Tips
The most traditional way of steaming bratwurst is with beer, but for a different flavor, try using white wine, red wine, or broth as the steaming liquid.

While delicious steamed, the traditional way of finishing a bratwurst is to pan fry it on the stove. If desired, pan fry for 3 to 5 minutes, continuously turning the sausage over, on medium-high heat until golden all over. They can also be placed on a pre-heated barbecue. Lightly grease the grill and ensure the heat is set to medium-high before grilling the sausage for 2 to 3 minutes on each side.

For added flavor when steaming, finely chop an onion and several cloves of garlic and add them to the liquid at the beginning of the cooking process.
Warnings
Be careful when you lift the lid to check on the bratwurst, as the steam can easily burn skin.

Do not pierce the bratwurst before cooking, as this will release precious moisture from the meat as it cooks.
Resources
Photo Credits
Jupiterimages/liquidlibrary/Getty Images