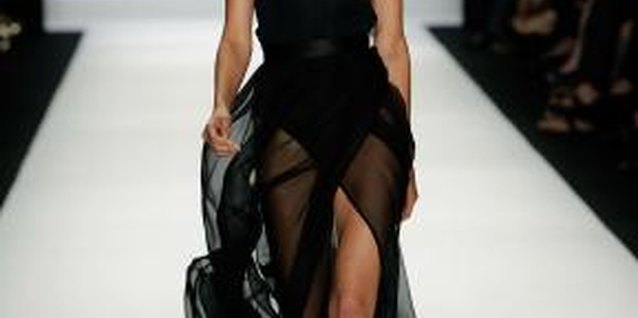 A black chiffon maxi skirt with its yards and yards of sheer flowing fabric can create a wide variety of looks to suit your moods and occasions. Go from bohemian-chic to sophisticated style in one fell swoop with this floor-length, wispy skirt. Your skirt easily can become a four-seasons staple that transitions from office wear to cocktail attire by simply changing your blouse.
1. Classic Style
The black chiffon maxi skirt is a spotlight piece in the sheer trend, but you can use it to put together a timeless outfit that has a hint of sex appeal; simply pair it with a crisp white button-down blouse. Start your look with a chiffon skirt that is lined to the mid-thigh and sheer to the ankle with an elastic waist that hits right at your belly button; or if the band is thick, wear a high-waist look about two inches above your natural waistline. Tuck in a short-sleeved, button-down with a wide collar and a deep neckline. Finish this sophisticated look with a pair of classic suede pumps for day or patent leather for evening.
2. Cold Weather Style
In the cold-weather months, wear your fully lined black chiffon skirt with a dark, chunky cable-knit sweater. Make sure the sweater is fitted enough to show your shape to avoid the outfit looking sloppy, and add a pair of booties or platform pumps to complete the look. Because this outfit offers full-body coverage, it's a good idea to wear your hair up in a top-bun or wispy up-do that exposes your neckline, frames your face and complements the low-key feminine style of this outfit.
3. Bohemian Style
A sheer chiffon maxi skirt that pleats from the knee to the hem and has lace or eyelet trim around the hips is a perfect piece for putting together a boho-luxe outfit. Add a pair of ankle boots or lace-up boots, a white V-neck tee and layer lots of accessories -- a wide leather belt, long beaded and chain necklaces, chandelier earrings or a wide-brim felt hat. This look makes for a beautiful combination of earthy and chic.
4. Romantic Style
A double-layered, slightly sheer high-waist ankle-length skirt worn with a lace blouse gives you sweet, romantic style in an instant. For a youthful, trendy style, wear a nude or light-beige long-sleeved lace crop top layered over a cotton black bra top and a pair of feminine high-heels such as a platform sling-back or D'Orsay pumps. For a more mature or conservative romantic style, wear a flowy floral blouse tucked into your maxi skirt and strappy flat sandals.
5. Edgy Style
A black chiffon skirt can be rockstar edgy just as easily as it can be soft and feminine. Wear a floor-length, straight-cut design -- made without pleats or flare so that it skims the body -- with double side slits, combat boots and a long black tank-top. Layer your top with a black waist-cincher belt for a modern-medieval look.
Photo Credits
Fernanda Calfat/Getty Images Entertainment/Getty Images