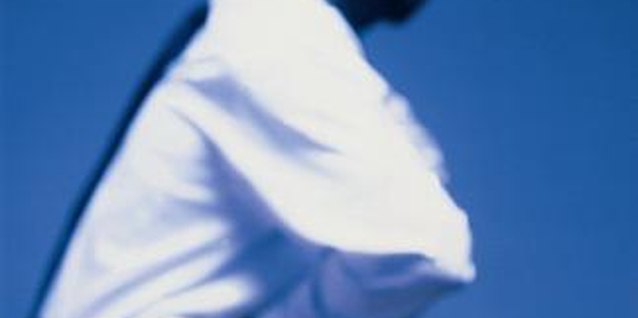 According to the Mayo Clinic, back pain is one of the most common reasons people miss work. It's also one of the most common reasons people visit doctors. Numerous things can trigger back pain, including poor posture and standing incorrectly when working. Some simple steps, like maintaining good posture and wearing supportive shoes, can make a big difference to prevent or relieve back pain when standing at work.
1 Stand up straight. As explained in an article on the Cleveland Clinic website, "Posture for a Healthy Back," keep your neck straight, your shoulders back, your stomach tucked in and your knees straight. If you're not used to standing up straight, it might actually feel a bit awkward or uncomfortable at first. Practice standing up straight as often as possible and it will begin to feel more comfortable, eventually relieving any back aches.
2 Wear good shoes with supportive arches. Avoid high heels and shoes that don't fit properly or feel uncomfortable when worn for long periods of time, as recommended in the article "Are Your Shoes Causing Your Back Pain?" on the Beth Israel Deaconess Medical Center website.
3 While standing, elevate one foot on a low stool, box, or step, about four inches high, as recommended in the article "Back Basics" on the University Health Services at Berkeley website. Switch feet every five to 15 minutes.
4 Adjust the height of your work surface so you can stand up straight, if possible. Keep items you use frequently within easy reach so you don't need to bend or twist often.
5 Change positions frequently and take a quick break to stretch or walk around for a minute or two every hour, if possible.
Items you will need
Good shoes with supportive arches

A low footstool
Tips
Regular exercise, especially core strengthening exercises, will help strengthen back muscles and prevent muscle strain or injury while working. See the slide show "Exercises to Improve Your Core Strength" on the Mayo Clinic website in the Resources Section for exercises designed to strengthen your core muscles.

Support your back when sitting or lifting at work, as well, by doing so properly. See the article "How to Save Your Back" on the UCLA Ergonomics website for information on how to do those things safely and without putting strain on your back (see Resources).
Warning
If you have severe back pain, or discomfort that doesn't go away when you follow the tips in this article, see a doctor to make sure you don't have a back injury that needs treatment. A doctor or physical therapist can give you more tips on how to relieve back pain and protect your back at work as well.
Photo Credits
Stockbyte/Stockbyte/Getty Images