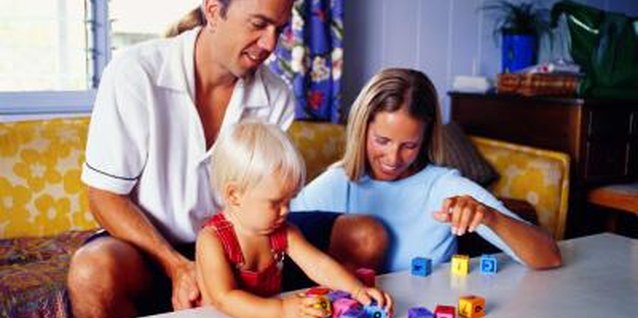 Teaching your 2-year-old the alphabet will be a lot more fun and much easier than stopping her from having temper tantrums. The sense of accomplishment she gets from recognizing letters everywhere may even help prevent a few meltdowns, especially if you can distract her by pointing letters out. But if you plan on making her sit still and listen while you teach her the alphabet, you can plan on a few more temper tantrums. The activities should be enjoyable for both of you.
1. Introduce the Alphabet
1 Prepare him. Make sure your 2-year-old knows colors and shapes before you try to teach him the alphabet.
2. Introduce the Alphabet
2 Read regularly. Read aloud every day, showing the pictures and words to your 2-year-old. Alphabet books, where each page focuses on a letter, will help her make the connection between books and the alphabet.
3. Introduce the Alphabet
3 Sing songs. The traditional alphabet song, "ABCDEFG/HIJKLMNOP/QRSTUV/WXY and Z, now I know my ABCs, next time won't you sing with me?" is an effective way to teach the letter names. Try practicing in the car to keep him entertained.
4. Introduce the Alphabet
4 Buy the right toys. Alphabet blocks and magnetic letters for the refrigerator may seem old-fashioned, but they've been around this long for a reason. As you play together, point out the letters for your 2-year-old.
5. Introduce the Alphabet
5 Hand over your iPad. Sesame Street is great for when you want to take a shower, but if you want your kiddo to really focus on learning the alphabet, an alphabet app on your tablet or smart phone is a better bet.
6. Teach the Alphabet
1 Choose a letter. Pick one letter to focus on each week so that your 2-year-old doesn't become overwhelmed and frustrated. You can follow the alphabet in order or start with the letters in your child's name.
7. Teach the Alphabet
2 Make the letter. Write the letter on card stock, cut it out and decorate it with your 2-year-old. Discuss the shape and the lines of the letter as you do so.
8. Teach the Alphabet
3 Hang the letter. Hang the letter in your toddler's room or play room. As you put it up, discuss the shape of the letter with your child again.
9. Teach the Alphabet
4 Roll out the dough. Help your child make the letter with Play-Doh. If you are a domestic goddess, you can also help your kiddo make letters with bread or cookie dough.
10. Teach the Alphabet
5 Repeat with each letter. Follow steps two through four each week with a new letter.
Items you will need
Alphabet books

Alphabet blocks

Magnetic letters

Tablet

Smart phone

Card stock

Scissors

Crayons

Play-Doh

Cookie dough

Bread dough
Tip
Don't get too caught up in the idea of teaching. You won't prepare your tot for elementary school by forcing her to sit still and listen. Have fun with your child and let the alphabet lessons happen naturally. Your tot's attention span is equivalent to her age, so you have about two minutes before your child loses interest.
Warning
Two-year-olds can certainly learn to recognize many letters, but do not expect mastery at this age. Focus on a few uppercase letters at a time and don't worry about lowercase letters yet.
Photo Credits
Thinkstock/Comstock/Getty Images