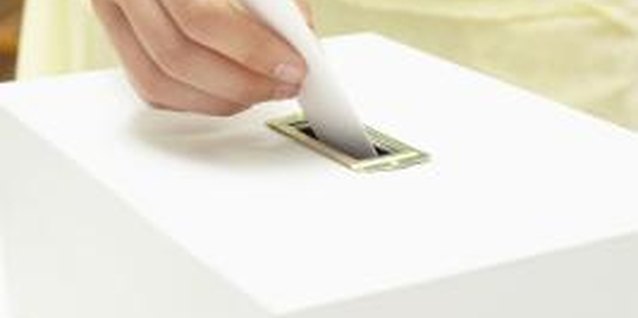 You might have a full-on grasp as to how the whole election process works, but your preschooler is just beginning to learn about concepts such as voting. Even a 4-year-old isn't too young to discover just how voting and elections work. Sure, she 's not going out to cast her ballot at the polls, but she can try out a few entertaining and educational activities that will help her to get a grip on the democratic process.
1 Discuss what the word vote means. Although your little learner has probably heard this word before, she might not have a real understanding of this new vocabulary. Preschoolers can understand more complex sentences than toddlers. Use multi-word sentences to explain the concept clearly. Add in concrete examples that are meaningful to her. For example, discuss how each member of your family can vote for either pizza or hamburgers for dinner tonight.
2 Choose a specific voting topic to extend the discussion. Have a mock presidential election using the real candidates at home with her brothers and sisters, yourself or friends, or pick another topic such as favorite kind of apple or favorite color.
3 Draw a simple voting chart. Turn a piece of poster board vertically. Write your choices in big, bright, bold letters on the left-hand side with markers or crayons. Make a line under each choice with a marker and a ruler.
4 Stage a vote. Read each choice and ask each voting member to raise a hand for their choice. Remind your preschooler that each person only gets one vote. Make a tally mark next to each choice for each vote.
5 Count the votes with your preschooler. Ask her which one has the highest number. Explain that this one is the winner of the election.
Items you will need
White poster board

Markers or crayons

Ruler
Tips
Reinforce the concept of voting by having more mock elections.

If you are having trouble starting the discussion, try out a picture book for preschoolers on voting and elections. Read the book interactively with your child, asking her questions as you go along.

Don't forget, activities for your preschooler can teach about more than just one thing. Although the main goal is to learn about voting, the charting activity also doubles as a math lesson.
Photo Credits
Jupiterimages/Photos.com/Getty Images