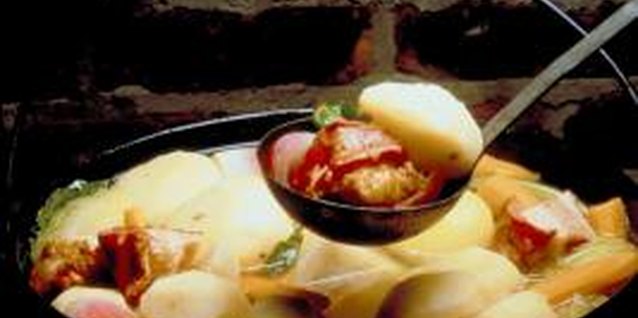 A traditional favorite for generations of families, a hearty, wholesome bowl of hot stew is a nutritious meal rich with mouthwatering meat, savory seasonings and tender vegetables. Make this simple dish in a large stock pot or Dutch oven or save time on a busy day by putting the stew together in the morning. Let the stew simmer in the slow cooker until dinnertime. Complete the meal with crusty bread or rolls. A flour thickener made with softened butter or flavorful liquid creates substantial stew with a velvety texture and rich flavor.
1 Create a thickening paste by combining equal parts softened butter and all-purpose flour in a small mixing bowl. Stir the flour slowly into the softened butter to avoid lumps.
2 Make a thickener with quick-mixing, all-purpose flour if you prefer a smooth, fat-free thickener. Remove a small amount of liquid from the stew, then place the liquid in a small bowl. Combine the liquid with an equal amount of the quick mixing flour. Alternatively, use liquids such as water or beef broth. You can also blend the thickener in a shaker.
3 Stir the paste or thickener into the simmering stew, adding only 1 tablespoon of thickener at a time. Wait a few minutes before the next addition of thickener to prevent the stew from becoming too thick.
4 Simmer the stew for at least five minutes before serving to remove the doughy flavor of the flour.
Items you will need
Butter

All-purpose flour

Small mixing bowl

Mixing spoon

Quick-mixing, all-purpose flour

Tablespoon
Tips
If you want to remove fat from the stew, skim the fat from the top of the stew before adding the thickener. Otherwise, the fat is difficult to remove from the thickened stew.

You can also make a stew thickener without flour. Remove several cooked vegetables from the stew and puree the vegetables in a blender or food processor. Stir the pureed vegetables back into the stew.
Photo Credits
Jupiterimages/Photos.com/Getty Images