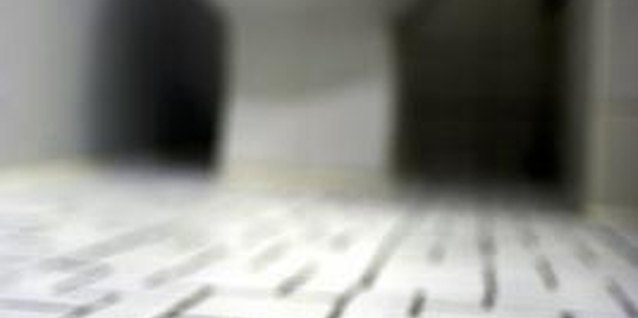 Whether your current bathroom tile is better suited for previous decades or you've tired of the color scheme in the room, you can replace the vinyl or ceramic tile easily, even if you're less than inclined to remove all the bathroom's fixtures first. Creating a custom pattern for around the toilet helps to simplify the remodeling project and enables you to create a tight fit and a finished floor that will look like it was installed by a pro.
1 Remove the old caulking in between the toilet fixture and the tiles, using a small, metal putty knife or a caulking scraper. Vacuum the mess to create a clean workspace for your project.
2 Create paper tiles the same size as the new floor tiles. Draw the measurements for the tiles on construction paper. Alternatively, place a tile on top of the paper, trace around it and cut it out. Use the cutout as a template for the remainder of your tiles.
3 Arrange tile spacers between the toilet and new tiles on the floor. If you haven't laid the new tiles yet, create the design on the floor with the paper cutouts, using spacers to ensure proper spacing. Alternatively, if you have installed all of the new tile except for those around the toilet, place spacers against the surrounding tiles and against the toilet.
4 Lay one paper tile cutout against the spacers surrounding the toilet and fold over the paper to make it fit perfectly between the toilet and the new tile. Leave the template in place and lay another paper cutout against the toilet, next to the first. Use a spacer to create a gap between the paper cutouts. Fold this second cutout to fit perfectly in the space. Repeat until you have surrounded the toilet with paper cutouts and folded each one to the proper size. Each of the paper tiles will become a template to cut out tile for around the toilet.
Items you will need
Caulking scraper (or small, metal putty knife)

Vacuum cleaner

Construction paper

Tile spacers
Tip
While you can use the paper cutouts to represent the new tiles for the entire floor, it is best to install all of the full tiles first, then use the paper tiles to fill in the distance between the tiles and the toilet. This ensures that the measurements are as accurate as possible.
References
Decorating Hints & Tips: More Than 2000 Practical Solutions to Help You Improve Your Home; Julian Cassell, et al.
How to Tile a Bathroom: Your Comprehensive Step-by-Step Guide; Amanda Smith
Photo Credits
Thinkstock Images/Comstock/Getty Images