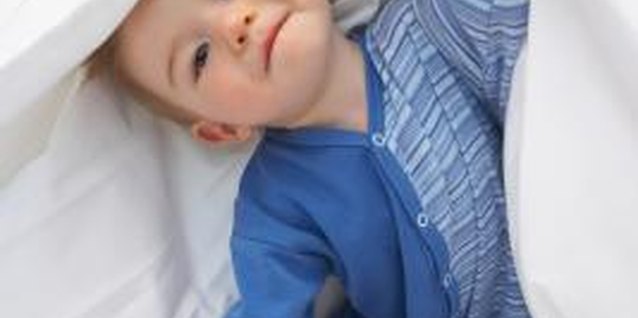 Toddlers are typically ready to transition out of a crib between 18 months and 3 years of age, although some crafty climbers may need to move out earlier. Some parents might be concerned that a toddler bed is used only for a short period before moving on to a standard twin-sized bed. If that sounds like you, consider skipping the toddler bed completely. Toddler beds have come on the market relatively recently.
1 Purchase a quality mattress, box spring and frame. This bed could potentially last your child until he leaves for college, so you want it to be a decent one.
2 Set the bed up in your child's room. Involve him in the process as much as possible. Helping you out will help him to get excited about the new bed, and give him a sense of ownership.
3 Set up the bed rails. These typically slide between the mattress and box spring and then pop up alongside the bed. If the bed is against the wall, you don't need to put one on that side, but you will want two rails if it's not against a wall. Position the rails so you have about a foot of free space at the head of the bed; this will give your child a clear view to the side when lying on his pillow. It also allows the rails to stretch further down the bed. They typically leave about 2 feet open at the foot of the bed.
4 Make the bed with sheets your child has picked out. Letting him pick out the sheets and blankets gives a sense of excitement and ownership to the new bed.
Items you will need
Mattress

Box spring

Bed frame

Bed rails

Sheets

Covers

Pillows

Pool noodles (optional)
Tips
If you are nervous about the drop to the floor, place pillows on the floor at the edge of the bed.

If you don't want to use bed rails, consider using a pool noodle. Side it along the edge of the bed underneath the fitted sheet. It won't help if your child wants to throw himself to the side of the bed, but if he's simply rolling back and forth, it will encourage him to roll back the other way.
Warnings
Bed rails should be of a mesh or breathable fabric.

Always follow the manufacturer's instructions when installing the bed rail. Each rail may install a bit differently.
Photo Credits
Jupiterimages/Photos.com/Getty Images