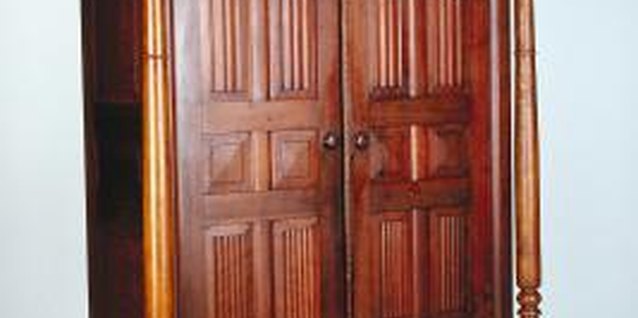 Crayons, markers, paper, scissors, glue, paint and all of the other craft supplies in your home are often strewn about where no one can find them. With the old wardrobe that you found at a thrift store or the one sitting as a junk closet in another room of your house, you could create an organized, functional and beautiful craft cabinet where your children will not need to ask you where their crayons are for the hundredth time.
1 Lay down dropcloths in a well-ventilated area in your home. Block of access from the room to prevent your kids from coming in contact with your painting supplies.
2 Move the wardrobe onto the dropcloth, and remove any existing hardware.
3 Sand the wardrobe lightly with 160-grit sandpaper to roughen the surface and wipe excess dust away with a tack cloth.
4 Paint the wardrobe with a coat of primer using a foam roller. Allow the primer to dry. Paint a second coat if you desire.
5 Use latex paint in a color that complements the room design for the topcoat of paint. Paint the wardrobe with the first coat using a foam roller and paintbrush. After the first coat dries, paint a second coat of paint if you desire. Allow the wardrobe to dry completely.
6 Fill plastic bins with craft supplies such as crayons, markers, fingerpaints, embellishments, beads, buttons and any other craft supplies you have on hand. Write the item's name each box contains on a scrap piece of scrapbook paper. Glue onto the bins for easy identification.
7 Store scrapbook paper, plain paper, construction paper, coloring sheets and any other loose paper in file folders. Set the folder in a file-folder organizer.
8 Use a plastic organizer to store fabric, contact paper rolls, vinyl and any other large sheets of paper or craft material inside the wardrobe.
9 Glue a pegboard measured and cut to the size of the inside of one of the doors of your wardrobe with construction adhesive. Add pegs and hang scissors, tape and other items to the pegboard.
10 Hang ribbons on the closet rod of the wardrobe if your wardrobe had one installed or use tension rods bought from the home improvement store.
11 Organize the items on the shelves of the wardrobe in a way that makes sense for your family.
Items you will need
Drop cloth

Screwdriver

160-grit Sandpaper

Tack cloth

Primer

Foam roller

Latex paint

Paintbrush

Plastic bins

Plastic organizer

Glue

Scrapbook paper

Marker

File folder organizers

File folders

Pegboard

Construction adhesive

Peg hooks

Tension rod
Tips
Paint the inside of your craft cabinet a different color for an interesting contrast.

If your wardrobe has drawers, use those instead of a plastic organizer to store fabric and large rolls of paper and vinyl.

Ask your local hardware store to cut the pegboard to size for you.

If you are not handy with a hammer, nails and cutting wood to fit, get your husband or a friend to add shelves inside the closet part of the wardrobe to store extra supplies.
Photo Credits
Jupiterimages/Photos.com/Getty Images