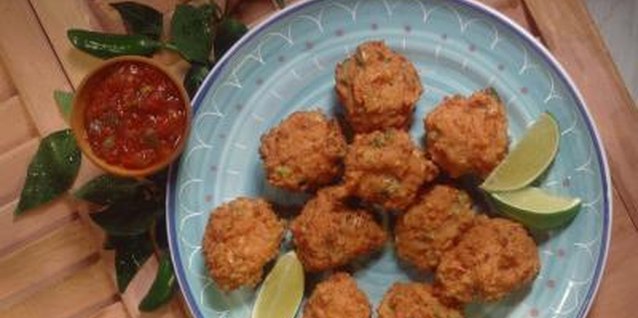 Baking soda falls into that category of ingredients that you rather know what they do, but have some trouble giving a concise definition of when asked. Baking soda is a bicarbonate of sodium that reacts with acid to form carbon dioxide. It helps dough rise, gives breads a fluffy consistency and imparts an airy crispness to fried foods – three qualities prized in the Desi cuisine of South Asia. Onion bhajia, of Desi cuisine, are crunchy, delightfully moreish, sliced-onion fritters common to India. Like curries, spices used in bhajia depends on the region -- and usually the family making them -- but the base ingredients are the same. Bhajia made with baking soda fries up crispier and airier than those made without.
1 Beat 2 whole eggs in a mixing bowl using a whisk and add 3/4 cup of all-purpose flour. The ratio of 2 eggs to 3/4 cup of flour forms the base of bhaji batter, and makes one batch of 10 to 12 bhajia. Traditional bhajia use chickpea flour, but all-purpose flour works fine.
2 Add 1/4 teaspoon of baking soda, 1/4 teaspoon of cornstarch and 1/2 teaspoon of cream of tartar to each batch of bhaji batter. Whisk until free of lumps and aerated.
3 Add 2 finely sliced, medium red onions to every batch of batter. Add spices to the batter to taste. Traditional onion bhajia contain combinations of minced garlic, turmeric, chili powder, minced chilis, freshly chopped coriander and cumin seeds.
4 Fry the onion bhajia in 1 inch of 350-degree-Fahrenheit oil in a cast-iron skillet until golden brown all over, about 1 to 1 1/2 minutes total. Use an oil with a high smoke point, such as peanut, sunflower or walnut. Remove the bhajia from the oil using a slotted spoon and place them on a plate lined with paper towels to drain.
Items you will need
Eggs

Mixing bowl

Whisk

All-purpose flour

Baking soda

Cornstarch

Cream of tartar

Red onions

Spices

Cast-iron skillet

Oil

Slotted spoon

Plate

Paper towels
Tip
Use bhaji batter made with baking soda as soon as possible. Baking soda loses its efficacy within a few minutes of mixing.
Warnings
Heat the oil and fry the bhajis on one of the rear burners of the stove, never on the front burners, and with the pan handle pointed towards the back.

Allow the oil to cool completely before straining and storing it.

You can store frying oil in an airtight food storage container for up to one month, but only after straining it through a sieve lined with cheesecloth first.
Photo Credits
Jupiterimages/Comstock/Getty Images