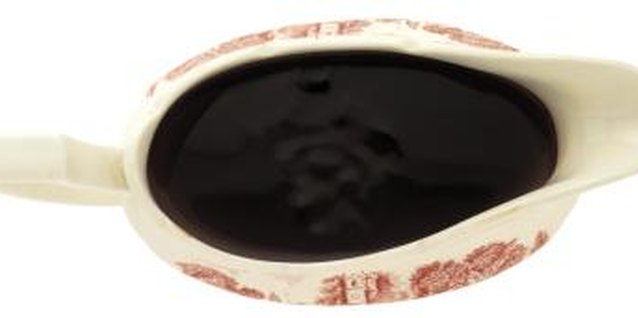 For centuries, chefs have used gravy as a delicious sauce for turkey and other meats. The arduous work that chefs had put into creating the perfect gravy has resulted in pre-made mixes that offer the taste of fine gravy without the effort. A chef can actually add a standard gravy mix to grilled foods, whether as an addition to a spice rub for meat cuts or mixed in to ground meats for added zip in burgers. The mix offers a complexity of flavors that will make the dish a hit at any outdoor culinary get-together.
1 Measure a ratio of 1 part brown gravy mix for every 32 parts ground meat, when creating burgers for the grill. Sprinkle over the meat as you add the other ingredients for the burgers. Combine thoroughly and pat the meat mixture into the desired burger size.
2 Toss brown gravy mix with a spice rub, if grilling whole cuts of meat, in a ratio of one to one, omitting any salt in lieu of the gravy mix. Sprinkle evenly over each cut, such as a steak, press gently into the flesh.
3 Turn the barbecue to medium-high heat. Brush the grill with oil to keep the burgers and cuts of meat from sticking. Cook according to the recipes used.
4 Create a gravy with any remaining mix. Serve the burgers or cuts of meat with the gravy drizzled on top.
Items you will need
Burger recipe

Spice rub

Cuts of meat

Barbecue

Oil

Barbecue brush
Tip
For an unusual condiment, make the gravy mix double strength, with half the called for amount of liquid, and mix with an equal part mayonnaise. This creates a salty and creamy dressing for burgers that compliments a crunch of lettuce or a grilled sweet peach.
Warning
Be careful not to add too much gravy mix, as they tend to be quite salty which can overpower all other flavors.
Photo Credits
Stockbyte/Stockbyte/Getty Images