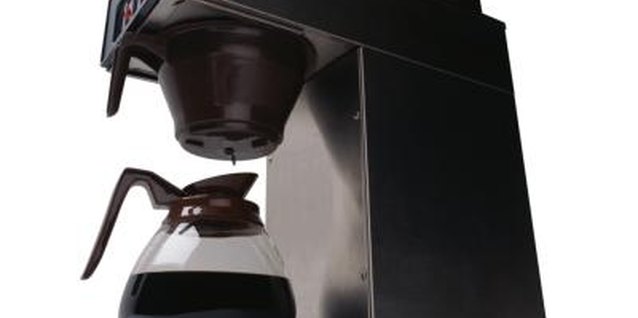 If you want to subtly darken your cabinets, consider making a pot of coffee. Yes, you read that correctly. Coffee grounds can be used to give your cabinets an antique finish. This is a project that may make you feel like part experimental scientist, part creative genius. It also will save you untold dollars on hiring a contractor to produce the same result, not to mention spare you the headache of waiting for him to return to the job after coffee breaks. This process assumes cabinets are unfinished wood. If they have an existing finish, at minimum you must rough up the existing finish with a light sanding if you do not intend to strip it and start with bare wood.
1 Make a pot of coffee using freshly ground coffee to the same strength as if you were preparing it for your morning routine. Alternatively, put instant coffee grounds into a bowl and cover the grounds with hot water. The more coffee grounds you use, the darker the stain. Note how much water you use for either method as you will add a respective ratio of glazing medium later. Store the coffee in the refrigerator overnight. For a test batch, make at least a half-pot of coffee.
2 Remove the coffee from the refrigerator. Strain the grounds if needed. Pour the coffee into a small bucket.
3 Add glazing medium equal to one-fourth of the amount of water. For example, if you added 4 cups of water to the coffee grounds, add 1 cup of glazing medium. Continue to note the numbers and proportions; you may need them later to make more coffee glaze. Thoroughly mix the coffee and the glazing medium.
4 Apply the coffee glaze to a practice board or an obscure piece of cabinet, using a paintbrush. Let the glaze dry. This will allow you to judge the intensity of the coffee glaze and remix it, if necessary. If it's too light, add more coffee grounds in your next test batch; if it's too dark, add less. Alternatively, if the glaze appears slightly too dark for your taste, gently blot or remove some of it, using the cheesecloth.
5 Remove dust from the cabinet with a tack cloth just before you're ready to apply the coffee glaze. Specks of dust and dirt will detract from the glazing effect.
6 Apply a thin layer of glaze to the cabinets, using a paintbrush. Keep a wet edge, just as if you were applying paint. The glaze may appear darker along any ridges or imperfections in the wood, just as an authentic antique.
7 Let the glaze dry. Inspect your cabinets. If you wish to add darker "highlights" or make some areas of the cabinet more pronounced, mix a slightly darker coffee glaze and apply it to these areas for an enhanced antique look.
8 Protect the finish by applying one coat of acrylic varnish to your cabinets, if desired.
Items you will need
Coffee, freshly ground or instant

Small bucket

Glazing medium

Acrylic paintbrush

Cheesecloth (optional)

Tack cloth

Acrylic varnish (optional)
Tips
Find glazing medium in paint and home improvement stores.

The glazing medium will not affect the color intensity of the stain.

Experimentation is part of the fun of this project; so is creating an antique look that suits your particular taste. As with most faux finishes, you can change your plan of action along the way as you work with the coffee glaze.

The color of your cabinet plays a role in the result: the coffee glaze will darken light wood more noticeably than darker wood.

Plan on using about 1 gallon of coffee glaze for every 100 square feet of cabinet.

Under "normal" circumstances -- if the coffee were paint -- the proportions would be 4 parts water-based glaze to 1 part paint (or colorant). In this case, because the colorant is coffee, the ratio is reversed to compensate for all the water that went into making the coffee. You could also compensate by making a coffee stain at least two, three or four times its "usual" drink strength.

Do a test piece on a scrap piece of wood that's the actual size of the cabinet door, for example, because it will give you a better idea of how it will look when completed than a small scrap of wood will. Having more coffee stain at your disposal allows you to complete a bigger test piece.
Photo Credits
Stockbyte/Stockbyte/Getty Images