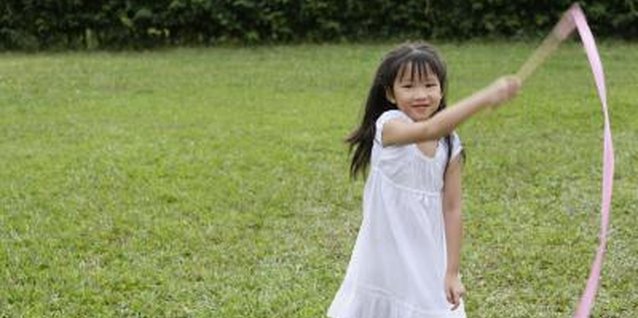 A creative mom armed with a needle, thread and ribbon can turn an ordinary item of clothing into something special and personalized. Even if you don't consider yourself crafty, add special touches to your kids' clothing that will make them stand out from the crowd -- and you'll look like super mom. (You are, anyway.) If your child is old enough, ask for her help selecting ribbons, as well as where she'd like them.
1 Sew ribbons into a design like a heart or flower on the front of your child's shirt. You can make slits at regular intervals around the collar of a sweatshirt or other shirt that won't unravel much, and then weave the ribbon through the slits, for a feminine touch around the collar. You can do the same thing around the waistband of tops. Sew the ribbon in place when you're done.
2 Add ribbons to pants or skirts by making a small bow out of ribbon, and then sewing it to the front waistband of pants. You can add these bows to pockets for decoration. Or, get thick, sturdy ribbon and thread it through the belt loops of a skirt or pair of pants, for a pretty tie belt. It's much easier than a buckle belt and it shows a dash of flash. Sew this ribbon in place once you've positioned it the way you want it. She'll love it!
3 Embellish her socks with ankle bows made of ribbons. Or, thread thin ribbons through the eyelets of your tot's shoes instead of shoelaces for a new look. Another bit of cute! Cut ribbon into pieces and use the small pieces to spell out words on your child's lightweight jacket. You can use thicker ribbons as headbands to keep her hair out of her face for special occasions. These are much more comfortable than heavy plastic headbands.
Items you will need
Ribbon

Needle

Thread

Children's clothing

Scissors
Tips
Inspect your finished sewing job on a regular basis, particularly on toddler clothing, to ensure that the ribbons have not worked loose to become a choking hazard. If you're really paranoid, use a few dabs of hot glue, along with sewing the ribbons to keep them in place.

Hand wash the ribbon-decorated clothing and then hang the garments to dry, because a washer and dryer will destroy your handiwork. Patterned ribbons or ribbons designed to look like velvet will not survive agitation in the automatic washing machine.
Warning
Because of the risk of choking, use caution when putting ribbons on toddler clothes. Sew ribbons on tightly and securely, and check each time you dress your child, to make sure the ribbons are secure and haven't worked loose.
Photo Credits
Jupiterimages/Goodshoot/Getty Images