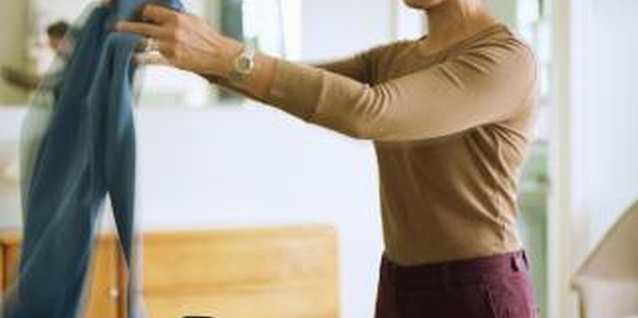 Even a short trip across town can leave a dress wrinkled and creased. For some dress styles, steaming rather than ironing is the best method to remove wrinkles. If you have access to a hand steamer, you can use wrinkle-releasing steam to smooth out your dress. If you plan to travel with your dress, carry a handheld steamer that you can use after arriving at your destination. Some hotels offer ironing boards and irons but may not provide guests with a steamer.
1 Fill the steamer with water and close the lid tightly. No water should seep from the machine. Make sure all the hose attachments are secure.
2 Hang the dress on a door where you can easily work on it. Turn on the steamer's power switch.
3 Wait for the machine's indicator light to signal that the steam is ready for use. Hold the hose end or wand 10 inches from the dress. You want the steam to work out the wrinkles without saturating the dress.
4 Start at the top of the dress, apply the steam to the neck, bosom and arms. Work in a fluid up-and-down motion, guiding the fabric to release the wrinkles. Steam the dress from the waist down.
5 Flip the dress around so that the back is now facing you. Steam the garment, working from top to bottom. Turn off the machine.
6 Allow the dress to dry completely before wearing it -- if possible, overnight.
Tips
If you have a thick, formal gown, you may have to steam the inside of the dress as well.

You can steam your dress in the bathroom during your shower if you have a little time.
Warning
Some machines sputter water during steaming. Make sure the water tank is full and the steamer is operating properly before using.
Photo Credits
Ryan McVay/Lifesize/Getty Images