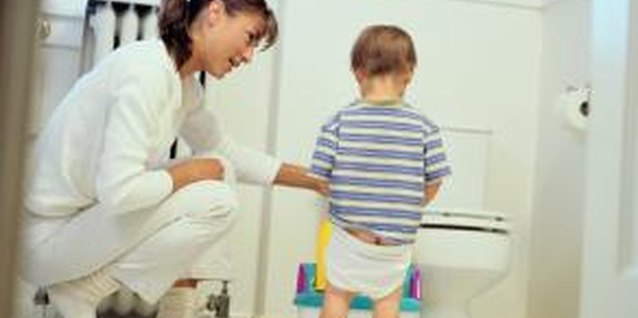 Getting your toddler to willingly relinquish his diapers is one of the greatest hurdles in potty training. After all, who would want to give up something that lets him pee and play at the same time? Training pants help introduce your toddler to the connection between his body and using the toilet.
1 Dress your toddler in either non-disposable training pants or disposable training pants with a sensory indicator that lets your tot feel his accident immediately. Training pants that completely absorb the mess and keep your toddler dry won't help him build a connection between his brain and his bladder. If you use non-disposable training pants, choose ones with an impermeable outer shell. There's no reason your furniture has to reek of urine when your child has an accident.
2 Show your tot how to pull his training pants up and down by himself and have him practice 10 times if necessary. Elasticity and accessibility are key for all aspects of potty training. Those new khaki shorts you bought are adorable, but the zip-fly and button create unnecessary obstacles that will only frustrate his toilet training efforts.
3 Explain to your toddler that if he has an accident while wearing training pants he will feel cold and wet. Obviously, most toddlers won't fully grasp what this means until it happens to them, but at least he can't say you didn't warn him. Talk up the comfort of being clean and dry, but avoid describing accidents as disgusting and exhausting, even though most parents feel this way at some point during toilet training.
4 Show him how to change his training pants when he inevitably toddles into the kitchen a few hours later to inform you of his accident. Teach him how to remove and dispose of his soiled training pants, wiping himself with a disposable wipe and putting on clean training pants. Don't get too excited, he'll still need your supervision and coaching the first several times he has an accident. Stay instructive and help when necessary, but don't do it for him or you're re-creating the diaper-changing scenario.
Items you will need
Training pants

Disposable wipes
Tips
Focus on toilet training at home, but don't make him, or yourself, suffer on the road. Keep a pile of more absorbant training pants, not diapers, on hand for running errands and other outings where a toilet isn't always easily accessible.

Praise success and refrain from responding negatively when accidents do occur. And yes, scowls, heavy sighs and eye-rolling count as negative. Remain neutral and matter-of-fact in handling accidents.
Warning
If your toddler continues to resist using the toilet or appears indifferent to accidents, it's important to rule out medical reasons with the pediatrician.
Photo Credits
Ryan McVay/Photodisc/Getty Images